Celebrate at the Source trade show in June!
Company: The Source trade show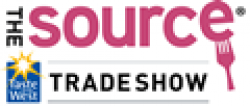 Time for some good news for a change! Hospitality is now open again, and life is starting to feel a bit more "new normal". There's even been some sunshine! After all the doom and gloom over the last many months, isn't it nice to have something to celebrate?
Hale Events, organisers of the Source trade show, have cause for celebration too. This year both Hale Events and show partner Taste of the West will have been trading for 30 years. They are also celebrating 15 years of collaborating together on the Source trade show, which first emerged as Select Food & Drink in 2006! The show has gone from strength to strength since then, bringing the best of the South West to buyers from hospitality, catering and retail.
This year the Source trade show takes place at Westpoint, Exeter on Tuesday 8th & Wednesday 9th June. As ever it will be showcasing a range of artisan food & drink, foodservice, essential goods and services. It's your opportunity to get up to speed for the rest of the year, with comparative tastings, innovative ideas, and networking opportunities.
It's a great opportunity for the food & drink industry in the South West to get together face to face again; it's been too long! If you'd like to join them in June, then you can register on the Source trade show's website at thesourcetradeshow.co.uk/welcome.