Zest employees clock up over 3,400 miles for charity
Company: Zest 4 Leisure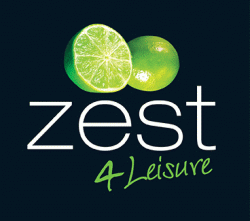 Employees from Zest 4 Leisure, a leading trade supplier of quality timber furniture, have covered over 3,400 miles this year, raising in excess of £15,000 for Cancer Research UK, its chosen charity for 2017.
Running, swimming and cycling, employees have taken part in a variety of challenges, the latest of which saw 45 people complete the Flintshire 10k Run.
In addition to this, 23 people successfully completed the Chester Marathon and 25 employees did the Manchester Marathon. Not to be outdone, Managing Director Steve Morgan and John Vaughan, Fencing & Timber Buildings Manager have completed almost 1,000 miles EACH taking part in marathons and Ironman Challenges.
Steve Morgan said: "The Flintshire 10k was a great experience although we could have done without the strong wind in our faces!
"Collectively, we've really pushed ourselves this year to raise money for Cancer Research UK. As a growing company, we are fully committed to employee fitness and long-term well-being as well as supporting the community and raising money for charity.
"I'm really proud of everyone who has taken part in the various events across the year. At times it has been an exhausting experience, but by focusing on our fundraising target of £20,000 we found the strength to carry on whenever we hit a low point."
Louise Aubrey, Senior Local Fundraising Manager from Cancer Research UK commented: "The commitment shown by all the Zest employees who have taken part in the events this year has been fantastic. We were delighted to be named their chosen charity for 2017 and certainly didn't expect them to cover over 3,400 miles to raise funds for us!
"I'd like to thank each and every person at Zest who has pounded the streets for us this year or taken part in the Ironman Challenges. I'd also like to say a big thank you to everyone who has sponsored Zest this year, as without their help none of this would be possible.
"The money they have raised so far will make a big difference to us as it will enable us to use it towards our lifesaving research, to help bring forward the day all cancers are cured."
The Flintshire 10k Run was Zest's final running challenge of the year and, to date, the company is 75% of the way towards its fundraising target of £20,000.
You can help Zest 4 Leisure in its fundraising efforts on its JustGiving page: www.justgiving.com/fundraising/P-A-Group-and-Zest4Leisure