Zest 4 Leisure's finance director sprints towards the finishing line of charity challenge
Company: Zest 4 Leisure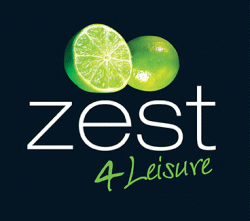 Andrew Baker, Finance Director at Zest 4 Leisure, has completed his 12 th and final competitive running event for 2019 to raise funds for Hope House and Tŷ Gobaith children's hospices. He completed the Conwy Half Marathon on 17th November, recording a personal best time of 1:31:21, one minute faster than last year.
Andrew is now just 100 miles short of his target of running 1,600 miles before the end of 2019. Since completing the Twin Piers in January, he has run six half marathons, two full marathons, a 10k, a 5 mile dash and a 20 mile running festival, spending nearly 19 hours pounding the pavements all in aid of charity. Added to this are the hundreds of miles Andrew has clocked-up while training.
Commenting on the Conwy Half Marathon, Andrew said: "What a great way to finish off my race schedule for the year. The support on the day was totally unexpected and gave me a real boost! I finished in 1.31.21 which was one minute faster than last year – 134th place out of 2,773 finishers."
At the start of the year, Andrew stated that he wanted to raise £2,000 for the charity which provides care and support to children and young people with serious illnesses and life limiting conditions, and their families. He has since smashed this by raising over £2,500!
Andrew continued: "Hope House and Tŷ Gobaith are amazing in the support they give to children, young people and their families. As a father of four who is also a keen runner, I wanted to raise as much money for them as I could, hence the 1,600 mile challenge. I'm delighted that I've not only nearly completed the distance but I've also exceeded my fundraising target which gives me a real sense of personal achievement."
Employees of Zest 4 Leisure have now raised over £15,000 for Hope House and Tŷ Gobaith children's hospices, Zest's chosen charity for 2019, but it's not too lake to make a donation - simply click here.