HTA Pearson Medal awarded to John Ravenscroft
Company: HTA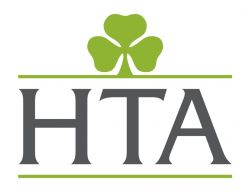 This year the HTA has awarded the Pearson Memorial Medal to industry pioneer John Ravenscroft in recognition of his outstanding services to horticulture. HTA President Boyd Douglas-Davies presented the award at the Cultivating Retail Conference dinner on 19 November 2019.
Commenting on the award Boyd Douglas-Davies said, "A horticultural legend it is a real privilege to present the Pearson Medal to John Ravenscroft. A true plantsperson, a pioneer in nursery production and garden retailing John has made a huge contribution to the garden industry."
Boyd adds, "The development of young people was a key area of focus for John and he was always very generous in sharing his knowledge and expertise with horticultural students. As a result today there are many ex-employees of Bridgemere in the industry who have gone on to enjoy success in other nurseries and garden centres."
Growing has been John's passion for over 70 years. After 10 years honing his skills in various nursery roles John and his wife Elizabeth founded and ran Britain's largest, and arguably most famous nursery and garden centre – Bridgemere Garden World. Famous for its display gardens Bridgemere Garden World has inspired millions of amateur gardeners over the years. One of the first garden centres to exhibit at shows many of these gardens have been recreated at Bridgemere.
After selling Bridgemere in 2006 John went onto to start Cherry Tree Arboretum. This collection now includes around 300 magnolias plus unusual varieties of Acers, Betulas, Cornus, Euonymous, Prunus and Sorbus. In 2018 John sold the stock and business of Cherry Tree Arboretum to Frank P Matthews, who carry on his good work today. Not one to be idle John continues to propagate trees from softwood cuttings today.
The Pearson Medal was presented at the Cultivating Retail Conference dinner in Nottingham on 19 November. Following the dinner, the audience heard from the UK's first Olympic ski jumper Eddie 'the Eagle' Edwards who entertained with the tale of his exploits. The dinner raised an amazing £4,000 for the Greenfingers charity.