Wyevale Nurseries staff receive long service medals
Company: Wyevale Nurseries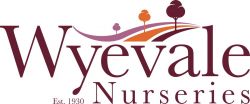 Members of staff from Wyevale Nurseries in Hereford were recently (June, 2015) presented with medals to honour their long service to the company.
Director's Secretary, Ros Cowley, Workshop Manager, John Light and Sales Manager, Adrian Hoare all received bronze medals from the Three Counties Agricultural Society for 30 years continuous service.
Andy Johnson, Managing Director at Wyevale Nurseries, said "We are blessed with many long serving, skilled and loyal staff. On this occasion I particularly want to thank John, Ros and Adrian for their collective 90 years of service and their contribution to the business."
Ros has worked in all areas of accounts and administration at Wyevale, culminating in her current position as Secretary to the company's Directors.
John repairs and maintains a fleet of tractors, forklifts and nursery equipment as well as fabricating and adapting new pieces of kit.
Adrian started work in the nursery's liner unit, progressing to the despatch department, van sales and the cash and carry until recently taking the position of Sales Manager for the Garden Design and Domestic Landscape customers.
Wyevale Nurseries is a member of The Three Counties Agricultural Society, which issues medals to people who have completed 30 years continuous service to horticulture or agriculture with the same employer or holding company.
Ken Nottage, CEO of the Three Counties Agricultural Society, said: "Here at the Three Counties Agricultural Society, we are delighted to recognise the loyal commitment of Ros, John and Adrian of Wyevale with our 2015 awards.
"The Three Counties Awards seek to champion the long standing contributions made by horticulture and agricultural businesses such as Wyevale Nurseries to the communities of the Three Counties. Ros, John and Adrian should be extremely proud of their achievements and we hope they will continue to support Wyevale Nurseries with their tireless efforts."
The society is a registered charity working for rural industry, the environment and countryside life.
It is committed to supporting farmers, growers and horticulturists in the region and developing understanding between urban and rural communities.
For further details about Wyevale Nurseries, which is based in Hereford, please call 01432 845 200 or visit www.wyevalenurseries.co.uk<http://www.wyevalenurseries.co.uk.
Photograph caption: (Second from left) Wyevale Nurseries' Chairman, Heather Williamson and (far right) Commercial Director, Simeon Williamson with (far left) Workshop Manager, John Light, (third from right) Director's Secretary, Ros Cowley, and (second from right) Sales Manager, Adrian Hoare and their long service medals.