Wyevale Nurseries expands its sales support team
Company: Wyevale Nurseries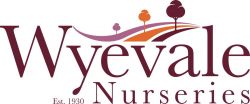 One of the UK's leading nurseries based in Hereford has expanded its sales support team and taken on two new administrators this month (December, 2019).
Wyevale Nurseries has promoted Paulina Sawicka from its propagation department to the team and appointed Helen Hoskins. Both are now Sales Support Administrators.
Andy Johnson, Director at Wyevale Nurseries, which celebrates its 90th Anniversary in 2020, said: "As a company we are going from strength to strength and investing significantly in the future in order to drive forward. We needed to expand our sales team and we are delighted to welcome Paulina and Helen to the department.
"They have joined our sales support team and will work alongside the existing sales team ensuring all customers are responded to as quickly as possible. They will cover the office-based functions allowing our key sales team to spend more time visiting our clients and doing site visits."
Twenty-eight-year-old Paulina from Hereford started working for Wyevale Nurseries as a seasonal worker in its propagation department in 2010. Within that role Paulina, who is originally from Poland, learnt about the nurseries' key plants and cuttings. She then worked her way up to a team leader position within propagation before her promotion to Sales Support Administrator.
Paulina explained: "I am looking forward to taking on this new challenge that the promotion has to offer. I have worked within Wyevale Nurseries for nearly 10 years and this experience with what goes on behind the scenes will help me in my new role."
Helen, who is from Hereford, has worked in the retail industry for more than 30 years. She was employed by the Arcadia Group for 15 years and worked in different stores through the group before managing the Bodyshop and Lakeland stores in Hereford. Prior to her role with Wyevale Nurseries, Helen, worked for Schaeffler (UK) Ltd in customer services as a Customer Service Advisor.
Fifty-year-old Helen added: "I am very excited about my new appointment with Wyevale Nurseries. My whole career has been in customer service and retail and I have a wealth of experience to bring to my role at Wyevale Nurseries.
"My change in my career direction was due to the fact that I wanted to work with a company with superb heritage. Wyevale Nurseries will celebrate its 90th anniversary in 2020 and has a clearly defined direction as it heads into the new decade. I'm really excited to be part of the team as it moves forward."
For further details about Wyevale Nurseries, which is based in Hereford, please call 01432 845 200, visit www.wyevalenurseries.co.uk, follow the company on Twitter at www.twitter.com/WyevaleNurs or log on to www.facebook.com/WyevaleNurs.