Tatham & Durr to collaborate with Wyevale Nurseries
Company: Wyevale Nurseries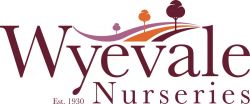 Two award-winning garden designers have recently (September, 2016) announced that they will be working in the future with one of the UK's leading nurseries.
Caroline Tatham and Kate Durr will be collaborating with the team at Wyevale Nurseries in Hereford on a series of projects that are currently confidential.
Adam Dunnett, Sales and Marketing Director at Wyevale Nurseries, said: "The talented duo partnered with us to host our hugely successful Open Day earlier this year, designing and planting displays inspired by the key new horticultural trends seen at this year's Chelsea Flower Show. They also gave talks about their experiences working with us as design professionals.
"The busy pair have used our plants for large-scale private client work and the celebrity speaker stages at both Royal Horticultural Society (RHS) Malvern and The Highgrove Garden Festival for HRH The Prince of Wales. Kate also worked with us on her show garden, 'Constraining Nature', which won both an RHS Gold Medal and the Best Festival Garden Award at the RHS Malvern Spring Festival in 2015.
"We're delighted that Caroline and Kate will be working with us on future projects. We have a great working relationship with them and are very pleased we can continue our relationship in to 2017."
In demand as lecturers and guest speakers, Caroline and Kate will be appearing at The Landscape Show in London later this month and will be teaching at a series of spring workshops at The Royal Gardens at Highgrove early in 2017.
Kate added: "Wyevale Nurseries have their fingers on the pulse and know what's 'hot' in the plant world right now, with wonderful new products in the pipeline.
"We are thrilled to be harnessing our design talents with Wyevale's horticultural excellence and their fantastic range of plants, so watch this space for exciting news soon."
Caroline is a qualified lecturer with many years' experience teaching professional garden design and planting design as well as practical horticulture. She is also a well-recognised garden and planting designer, who runs Cotswold Garden Design. She has mentored aspiring garden designers in the Festival Show Garden category at the RHS Malvern Spring Festival.
Kate has a diploma in professional garden design after studying at the Cotswold Gardening School. She designed and built her first RHS show garden at the Malvern Spring Festival in May 2015, after winning a national RHS competition.
For further details about Wyevale Nurseries, which is based in Hereford, please call 01432 845 200, visit www.wyevalenurseries.co.uk, follow the company on Twitter at www.twitter.com/WyevaleNurs or log on to www.facebook.com/WyevaleNurs.