Promotion for Green-tech's Sam
Company: Green-tech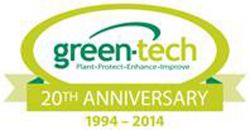 Green-tech is delighted to announce the promotion for Sam Woodward within the Green-tech sales team.

Sales Director Ian Rotherham said, "Sam is a key member of the sales team. He started his career at Green-tech in 2011 and has built up excellent relationships with his peers and customers alike. His hard work and commitment has paid off and he has been promoted to Deputy Pod leader and will support Drea Questari in the management of one Green-tech's four sales teams."

Sam's promotion comes at a time of continued growth at Green-tech which sees its John Chambers Wildflower Seed business and Green-tree soil business expanding.

The last few months have seen an influx of new starters, taking Green-tech's head count to 43. Green-tech are currently recruiting for two new sales advisors and a part time receptionist to help cope with the expected demand over the winter and spring period. If you are interested in any of these positions contact Green-tech on 01423 332 100.