New roles at Bransford Webbs
Company: The Bransford Webbs Plant Company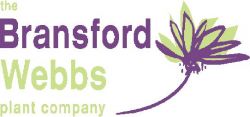 Adrian Marskell has officially taken on the role of Managing Director, following the departure of Geoff Caesar.
Adrian, who has been with Bransford Webbs as Sales Director since December 2000, has become Managing Director, and will continue to lead the Sales Team as well. Christine Chalmers and Richard Colbourne will continue as Production Director and Finance Director with increased responsibilities, with Christine in particular taking the lead in the important role of attracting new plants to the nursery.

Adrian Marksell commented, "Christine, Richard and myself have over 50 years' experience of working at Bransford Webbs and are extremely excited to be taking the business forward over the coming years".

Will Tooby, Chairman, added "I know the team are excited by this challenge and have the skills and abilities to continue the development of the business".