Kathryn completes her challenge for Thrive
Company: Thrive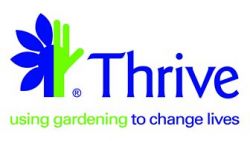 Thrive's Chief Executive Kathryn Rossiter swapped her wellies for trainers for five days in May when she took on a massive sporting challenge to raise £5,000 for the gardening therapy charity.
Kathryn completed her epic challenge on Wednesday (May 31) when she ran back into Reading town centre and was welcomed by volunteers from the charity along with Bill 'n' Ben the flowerpot men and Little Weed!
Kathryn, who has just celebrated her 50th birthday, decided she wanted to ditch the cake and big party and instead raise funds for the charity where she has been CEO of for the past five years. She used the number five as her inspiration!
She said: "I wanted to start my 50s fitter and stronger than I've ever been, but it's not all about me which is why I've set this challenge and hope it brings in some money for Thrive.
"I'd like to raise £5,000 – I've got half way there which is fantastic and I'd like to thank everyone who has made a donation.
"There is still time to donate as the JustGiving page will stay open for a few weeks."
Kathryn started her challenge on Saturday May 27 where she swam 5km in Reading Lake before jumping on her bike to start the 550km ride. She completed the cycling and a 50km run on day five and her challenge saw her take in five counties – Berkshire, Oxfordshire, Buckinghamshire, Wiltshire and Hampshire.
"It was tough going but a great experience. I had support from my husband Jamie and friends Anne and Mick all the way and from the Thames Valley Triathletes who have been brilliant," she said.
"Whenever things got tough I thought about the client gardeners and how much they get from coming to Thrive.
"With financial conditions remaining challenging for all charities, including Thrive, it is getting harder and harder for us to finance our therapeutic gardening programmes which are so desperately needed and help such a wide variety of people – from stroke survivors to those living with a learning difficulty; people with dementia, people recovering from an injury and those whose lives are blighted by mental ill health.
"We have seen first-hand how gardening with a Thrive horticultural therapist can bring profound changes to peoples' lives and we rely on public donations, corporate supporters and people doing fundraising challenges to keep the money coming in.
Thrive is the garden therapy charity based in Beech Hill near Reading, which helps people with disabilities or ill health, or those who are isolated, disadvantaged or vulnerable. Using gardening in this way with a horticultural therapist comes under the wider umbrella of green care and each year Thrive helps hundreds of people of all ages to make positive changes to their lives.
Read more about Kathryn's challenge at https://k50challenge.wordpress.com/home/
To make a donation visit https://www.justgiving.com/fundraising/KathrynR-50