Company: Rolawn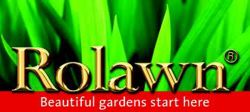 Rolawn – Europe's largest turf grower - have recruited new key personnel to meet the next stage of the company's development. Mark Webb and Alison Mellor have joined the customer services team. Alison Cole, Les Cowley and Richard Henley come into production, warehousing and workshop respectively.
Paul Dawson, Rolawn's managing director, commented "Investment in professional experienced staff is a key company policy. I am delighted with these new appointments as each one of them is strengthening and improving the quality of our people."
For further details visit www.rolawn.co.uk or telephone 0845 604 6085.