Harry starts Management Trainee Scheme
Company: Wyevale Nurseries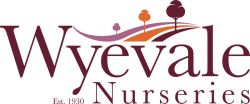 Harry Downes has this month (November, 2019) started his two-year Management Trainee Scheme at one of the UK's leading nurseries based in Hereford.
Twenty-one-year-old Harry, who has just relocated from Leeds to Belmont in Hereford, will be working at Wyevale Nurseries on its in-house programme, which covers all areas of the business.
Andy Johnson, Director at Wyevale Nurseries, which celebrates its 90th Anniversary in 2020, said: "I would like to welcome Harry to our team. We're delighted he accepted our offer to join our Management Trainee Scheme. Harry had all of the attributes we were looking for, from a positive attitude to pure enthusiasm for nursery production and we're delighted to welcome him to the programme.
"Harry has just graduated with a BSc (Hons) degree in Plant Science from Eden Project Learning – The Cornwall College Group. He will spend his first six months in Hereford split between our container production and our supply chain before spending his second six months split between our trees and transplants divisions.
"Harry's second year will include time with our sales and accounts teams as well as further placements at the production divisions."
Assessment during the Management Trainee Scheme will be through regular reviews and assessing performance against agreed objectives. Harry will have a mentor to meet with on a regular basis. There will also be a Programme Co-ordinator to support him and to ensure that regular constructive reviews are undertaken.
Harry added: "I have, for as long as I can remember, had a passion for horticulture and through university developed a great interest for nursery work. The scheme will allow me to experience the different jobs required on a nursery and learn from a long established highly regarded company."
Past Management Trainees at Wyevale Nurseries include Kyle Ross, who is now the Production Manager at the company and Chris King, who is now the Assistant Production Manager at its Transplants Division.
Ben Gregory, Product Research & Development Manager at Sprint Horticulture in Sydney, also started his career with Wyevale Nurseries as a Management Trainee and quickly progressed to establish himself as Wyevale Nurseries' Product Development Manager before moving to Australia.
Andy added: "Upon successful completion of the programme, it is anticipated that we shall be able to match Harry to a suitable role with the company which would benefit from his particular strengths.
"We have had a great success rate with our Management Trainee Programme and past applicants are either still working for us and thriving like Chris and Kyle or are still involved in the industry within other companies like Ben."
For further details about Wyevale Nurseries, which is based in Hereford, please call 01432 845 200, visit www.wyevalenurseries.co.uk, follow the company on Twitter at www.twitter.com/WyevaleNurs or log on to www.facebook.com/WyevaleNurs.