Callum's career in horticulture blossoms
Company: Wyevale Nurseries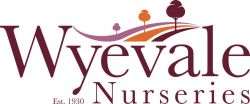 Callum Smith from Bristol has recently (May, 2017) finished a work placement at one of the UK's leading nurseries in Hereford as part of The Prince's Trust Get into Woodlands programme.
The 25-year-old spent two weeks at Wyevale Nurseries as part of the programme, which aims to provide unemployed 16-25-year-olds with the opportunity to gain work experience and receive training in a specific sector.
Jules Griffiths, Transplants Sales Administrator at Wyevale Nurseries, said: "Callum has fitted in well with the team here at our Transplants Division and has demonstrated a passion for plants and a keen interest in pursuing a career in this industry.
"Callum spent most of his time helping with the lifting and grading of plants but also spent some time packing with our internet sales despatch department.
"The benefits of these work placements are extremely valuable as it helps to develop workplace skills, as well as facilitating the trainee to make an informed decision about the type of career path that might be compatible for them.
"The trainee also gains current experience and a suitable reference to add to their CV. The scheme also focuses on employability skills to help move trainees into a job upon completion of the course. We are delighted to endorse such a fantastic programme that aids young people with their career progression."
The Get into Woodlands programme has enabled Callum to complete a variety of qualifications and certificates, including Health & Safety Manual Handling, First Aid and a chainsaw licence.
Callum explained: "It's been really good to meet everyone. I've learned how warm and welcoming everyone is and how they all work so hard. I've really enjoyed working in the outdoors and seeing the broad spectrum of products."
HRH The Prince of Wales founded The Prince's Trust in 1976, with the aim of improving the lives of disadvantaged young people in the UK. The Trust has supported more than 825,000 young people.
Callum's next venture is a position with The Severn Project, which produces high quality salad leaves and herbs at its urban farm in Bristol.
For further details about Wyevale Nurseries, which is based in Hereford, please call 01432 845 200, visit www.wyevalenurseries.co.uk, follow the company on Twitter at www.twitter.com/WyevaleNurs or log on to www.facebook.com/WyevaleNurs.