Apprentice of the year winner from Bransford Webbs!
Company: The Bransford Webbs Plant Company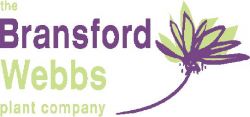 Apprentice of the Year was awarded at the RHS Malvern Spring Festival last Friday, and was won by Bransford Webbs Thomas Everard. Thomas, who is in the second year of his apprenticeship scheme, was presented with the award by Monty Don, during the show.
"We are very proud of Tom's achievements", commented Karl O'Neill, Apprenticeship mentor at Bransford Webbs. "He has worked very hard during his apprenticeship and is a worthy winner of this award. We are positive he has a bright future with us here".

Thomas joined Bransford Webbs in September 2017, on the two-year apprenticeship scheme, working towards a level 2 work based diploma in horticulture. He successfully applied for the job of area team leader in August 2018 and is responsible for the growing and despatch of crops within his area.

He was also an IPPS GB & I 6 pack award winner in 2018, which enabled him to attend the Annual Conference in Holland. The three-day long conference offered him the chance to attend a range of lectures and visits, as well as the opportunity to meet other growers from across Europe.

Following on from this, Thomas is due to attend an industry breakfast for invited individuals who are new to the industry at RHS Chelsea Flower Show next week, hosted by ADHB.