Apprentice of the Year 2017
Company: The Bransford Webbs Plant Company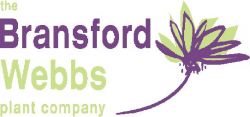 Last week, thirteen students, who are currently part of the Midland Regional Growers Apprenticeship Scheme, visited the Malvern Spring Festival for the schemes Apprentice of the Year Award.
Arthur Dawes and Billy Wilce, currently apprentices at Bransford Webbs were part of this group, and had the pleasure of meeting Alan Titchmarch, where he described to them how his career had started as an apprentice in horticulture. The award was presented to Daniel Marshall of Glendale Horticulture by Alan Titchmarsh in the Festival Theatre at the show.

The Bransford Webbs Plant Company has always been proud of its involvement in apprenticeship schemes and is keen to be involved in the future development and integration of the younger generation into the horticultural industry. The two current apprentices are due to complete their studies in September, with new applications for the Apprenticeship being advertised now.

"The Bransford Webbs Plant Company are dedicated to encouraging a new generation into production horticulture", commented Geoff Caesar, Managing Director. "Without our dedicated and highly skilled nursery staff, Bransford Webbs would not be in the position we are today".