Trainees given a helping hand from The Rainy Day Trust
Company: Wyevale Nurseries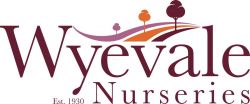 Two management trainees at one of the UK's leading nurseries in Hereford have this month (May, 2017) each been given a grant from a charity to help with their transport costs.
Chris King and Kyle Ross, who both live in Hereford and work at Wyevale Nurseries, were each presented with £500 from The Rainy Day Trust, which is based in Birmingham.
Steve Pandeli, Head of Supply Chain Operations at Wyevale Nurseries, said: "The Rainy Day Trust is the only charity which exists solely to help people who work and have worked in the UK's home improvement and enhancement industry, which includes garden centres and nurseries.
"The grant given to Chris and Kyle is to assist with fuel costs as they travel between their respective homes and place of work. The charity has also offered to pay for the pair to undertake PA2 spray training at a cost of £255 per person."
Twenty-three-year-old Chris and 22-year-old Kyle are on Wyevale Nurseries' two-year in-house management trainee programme, which covers all areas of the business.
Chris and Kyle applied and met the charity's eligibility criteria for the grants. The charity was able to match what it can do with Chris and Kyle's specific needs, which in this case was help with transport costs and spray training.
Chris added: "Kyle and I would like to say a huge 'thank you' to The Rainy Day Trust for the grant to help us with our transport needs. We also can't wait to attend the PA2 spray training course. We would urge anyone else in the horticulture or garden centre industry who needs a helping hand to contact the charity to see if it can help."
The Management Trainees fell into The Rainy Day Trust's new apprenticeship-based programme whereby it is trying to encourage people into the industry and provide them with the necessary skills to gain a permanent position, and improve their life chances.
Bryan Clover, Chief Executive Officer at Rainy Day Trust, explained: "The Rainy Day Trust exists to help people who work in garden centres and nurseries, and in particular we want to support and encourage younger people to become apprentices or trainees.
"We believe strongly that if we give people the skills from the very start of their working lives, then they will be better placed to thrive and prosper. It's a classic 'prevention is better than cure' approach.
"We are delighted that we were able to help out with these two applications, and would welcome applications from other people in a similar position."
For further details about Wyevale Nurseries, which is based in Hereford, please call 01432 845 200, visit www.wyevalenurseries.co.uk, follow the company on Twitter at www.twitter.com/WyevaleNurs or log on to www.facebook.com/WyevaleNurs.