Annabelle Padwick announced as latest Thrive Ambassador
Company: Thrive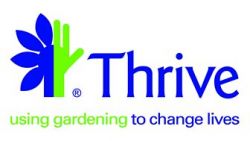 We are delighted to announce that Annabelle Padwick has become the latest Ambassador for Thrive.
The writer, speaker and founder of Life at No.27 has been promoting the benefits of gardening to those struggling with mental ill health since 2015, by sharing her own personal story through her popular allotment blog and speaking at various events, including BBC Gardeners' World Live.
Passionate about using her experiences to help others, Annabelle is currently working on a social enterprise-led vision, which aims to create an allotment-based support network that will help improve the lives of people of all ages across the UK.
"I have been a huge supporter of Thrive since I found out about the charity, because had I known about them at my lowest point I would have definitely contacted them. My aim is to raise awareness for the charity and the benefits that gardening can bring to people suffering from mental ill health, disability, vulnerability and more through sharing my story of how my allotment helped me to overcome my troubles and build my confidence."
Kathryn Rossiter, CEO at Thrive said; "Annabelle is already a strong supporter of Thrive, so we are delighted that she joins our current Ambassadors celebrity TV gardener and Chartered Horticulturist David Domoney, and Kent-based Mark Lane, who is the UK's first wheelchair garden designer and BBC garden TV presenter. Annabelle's personal experiences mean that she completely understands the benefits of gardening and the difference it can make to people's health and wellbeing, especially to those living with a disability, long-term health condition or mental health issue. We join Annabelle in inspiring the next generation of gardeners and spreading the message 'It's not just gardening…' It's improving mental health, experiencing better physical health, connecting with others, acquiring new skills, and enjoying the great outdoors."
After all, it's not what you grow, it's how YOU grow.
@thrivecharity https://www.facebook.com/thecharitythrive