Annual Festival Dinner raises £27,000 for Perennial
Company: Perennial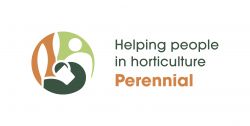 Perennial, the charity for people working in, or retired from, the horticulture industry, held its annual festival Dinner on October 14th, raising £27,000. The event took place at One Whitehall Place in central London and was hosted by the fabulous Craig Revel Horwood. The total raised was achieved through ticket sales, event sponsorship and an auction and raffle.
Guests enjoyed entertainment from Craig Revel Horwood, who thrilled the audience with secrets from BBC Strictly Come Dancing. Magician David Redfearn also thrilled the crowd with his skilful sorcery and auctioneer Addison Gelpey raised thousands with his witty and fun-filled performance. Flowers for the event were kindly provided by Judith Blacklock Flower School.
The auction raised over £12,000 and included a fabulous choice of luxury lots, such as tickets for the Strictly Come Dancing Live Arena Tour and the new musical Strictly Ballroom. A week's holiday for four in Scotland, attracted the highest bid and The Heads and Tails, raffle, donations, and commitments to further Perennial partnerships made it a hugely successful event.
Paul Rochford, Chairman at Perennial commented: "The evening was a great success, and I am grateful to the staff who worked so hard to ensure that everything ran so smoothly. I would also like to thank our star guest and our supporters who were so generous with their time and money. There was a great energy in the room which I thought showed how committed all present were to the cause. I look forward to more Perennial events!"
Perennial's annual festival dinner is a popular tradition that started over 180 years ago. In 1839 the Gardeners' Benevolent Institution was founded at the inaugural dinner, attended by gardeners, nurserymen and wealthy estate owners. It became a prestigious annual fixture and during the 19th and early 20th centuries drew high society and was one of the highlights of the socialite's calendar. In 1852, Charles Dickens presided over the ninth festival dinner and in 1867 it was the turn of Sir Robert Peel, founder of the modern police force.
The next Festival Dinner will be held on Thursday October 13th, 2022 at One Whitehall Place, London - contact Perennial at 01372 235434 to secure tickets now or buy online https://perennial.org.uk/events/festival-dinner.
About Perennial
Perennial is the safety net for people in the horticulture industry and is here to help individuals working in, or retired from any job involving trees, plants, flowers or grass. Perennial's help and support is free and confidential. The helpline is available on 0800 093 8543 and you can also visit perennial.org.uk/help to find out more.