Virtual rep visits from The Bransford Webbs Plant Company
Company: The Bransford Webbs Plant Company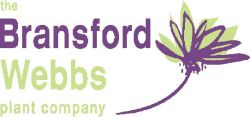 Here at The Bransford Webbs Plant Company, we want to support our customers in every way possible during this difficult and unprecedented time. During this most recent lockdown period, our reps are unable to travel around the country to visit centres and meet customers in person, as they normally would.
This week, we have launched our new initiative, offering virtual reps visits to our customers across a wide range of platforms. Both Trina and Andy looking forward to being able to 'meet' with you and discuss the wonderful stock we currently have to offer you to keep your plantarea looking bright and colourful.

David Chilvers, Sales Manager commented "We love our usual face to face sales visits as not only does it give us the chance to show off our wonderful plants, it also allows us to understand our customers' needs much better than in a phone call. Although we can't travel at the moment, to protect our team and customers alike, a virtual visit offers the next best thing, a tailored meeting where we can discuss customers' needs and show the best range of stock to meet those needs".

If you would like to arrange a meeting please contact your sales rep directly or the office on 01886 833733.