National Plant Show virtual New Plant Awards
Company: The Bransford Webbs Plant Company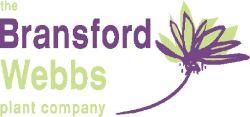 The Bransford Webbs Plant Company have entered a fantastic ten new varieties into the Virtual New Plant Awards being held by the HTA National Plant Show in June.
Despite the difficulties of the last 12 months our extensive research and development program has not faltered, and we have continued to trial plants throughout the year.

Two beautiful new Hydrangeas from the Flair and Flavours ® range by Proven Winners®, 'Blue Sprinkles' and 'Pink Sweethearts' have a mass of blue and pink flowers respectively in the summer months. We have added to our stunning miniature climbing roses range with the gorgeous salmon coloured 'Onward and Upward' and free flowering 'Little Bronze'. Our final entry into the shrub and climber category is the delightful Parahebe 'Pink Delight'. In the herbaceous perennial class, we have entered Digitalis 'Lucas Light Pink' with its mass of pale pink spires in summer, Salvia 'Flamingo' with its rich pink spires of colour and three stunning Iris in the form of 'Framboisine', 'Irisades' and 'Lune et Soleil'.

Our trials continue to progress throughout 2021, with many new plants featuring in our 2022 brochure due out later this month.