Henry Bell Wild Bird Care's uniquely designed feeders
Company: Henry Bell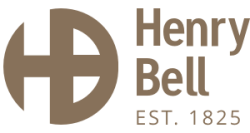 Springtime is a busy season for wild birds as they actively claim their territories, search for a mate, and prepare nests to raise their young. For all this activity, they need as much energy as possible, sourced from rich nutritious food. Leading quality pet, wild bird food and accessories producer, Henry Bell (www.henrybell.co.uk), has a unique design on their collection of wild bird feeders: a forward-facing perch which enables garden birds to gather as much food as they need and in a safer environment.
With bird wellbeing at heart, Henry Bell feeders have ring perches added to the design to make feeding easier and safer. The ring perches on the feeder's unique design consists of a crossbar enabling garden birds to feed in their natural forward-facing position. The increased perching area also allows birds to have a greater sense of safety, using their peripheral vision to keep an eye out for predators.
The distinctive ring perches are popular amongst many garden birds. In particular, the traditionally ground feeding Robin has been seen to benefit from using the ring perches as they feel more secure on the larger perching area. The unique ring perches feature is available in the Henry Bell Essential Range, Henry Bell Heavy Duty Collection, Henry Bell Sterling Collection and Henry Bell Heritage Collection.
Henry Bell & Co is a fourth-generation family-owned British business that has been producing high quality wild bird and animal foods for a number of years. The company launched its own range in 2019, Henry Bell Wild Bird Care, which features over 140 quality products catering for every type of garden bird, all designed with health and wellbeing of birds in mind. Henry Bell has made sustainable packaging a priority with all their Wild Bird Food packaging being 100% recyclable.
Henry Bell Wild Bird Care is available at Dobbies Garden Centres, Blue Diamond Garden Centres and selected independent garden centres, pet shops and retail outlets nationwide.
For more information, please visit www.henrybell.co.uk