New Handy garden machinery display introduced across Dobbies Garden Centres
Company: Handy Distribution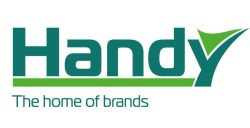 British garden equipment manufacturer Handy has unveiled a new display concept which is being introduced across Dobbies' 67 Garden Centres this Spring. The display combines strong branding, clear product specifications and pricing, and easy access to stock. Brands featured in the new Handy display include Webb, Greenworks, Flymo and Q Garden, and cover all power types and sizes to meet Dobbies' full customer demographic and different garden types.
The new display encompasses a lay flat area with product presented in a 'good, better, best' proposition, and stock instantly available from this area rather than held in a back stock room which was previously the case. The back wall area has also been completely redesigned and now features a simplified selection of core cordless and handheld equipment clearly marked with POS. The result is a simplified customer journey, through mowers and hand-held equipment, across all power types.
A long standing Dobbies' supplier, Handy has been working with Dobbies' team on the new display concept since July 2021, reviewing the category performance by line and considering new product options, whilst also looking at how to improve stock availability from the shop floor but within the same footprint. This latter aspect proved to be one of the biggest challenges, but was addressed through a clever redesign of the lay flat area to feature new lawnmower risers with stock (over 30 boxed lawnmowers) sitting behind each lawnmower on display. Machinery was carefully selected to ensure all customers are catered for, from a new gardener with a small garden through to experienced gardeners with large outdoor areas to maintain. Now, the customer journey at this display starts with electrical rotary mowers, through to cordless lawnmowers and on to petrol mowers. Continuing round the lay flat area, you then see the hover and upright storage mowers, before reaching push cylinder and scarifiers.
In addition to lawnmowers, Handy's Webb branded electric and Greenworks cordless hand held machinery are showcased in the new display at Dobbies. These items, which include 20v, 24v and 40v models, are located on a new branded back wall bay on brackets that allow the products to be clearly displayed and enable customers to remove them for inspection. All products include a magnetic POS which is simply positioned either on POS holders or next to the product on the metal wall bay, which details product specifications and pricing. The bright, fresh design of the new wall displays feature imagery of long, lush grass at the base and application shots on the top panel.
The new displays for Dobbies have been developed in partnership with GEM Merchandising who have over 30 years' experience within the DIY and garden market, making them the ideal partner to deliver this project. GEM Merchandising has also been appointed to clean and restock the displays monthly, to keep them in pristine condition.
"We are confident this new relationship will really help us achieve the desired results in Dobbies Garden Centres" states Mark Moseley, Handy's Sales & Marketing Manager. "It's important to us that we maintain high standards to uphold Dobbies' reputation and, of course, present the brands in a way our customers would expect to see them. We have invested significantly in this and, although it is very early days in the project, we are already seeing a significant spike in sales which is all down to the hard work and efforts of the Dobbies Buying team, Handy's sales team and GEM Merchandising."
Mark is also keen to point out that Handy's support stretches to other retailers: "We look to work with all our retailers where possible to improve our brand visibility and help improve the overall garden machinery category." This support comes in a variety of forms, such as the provision of wooden mower plinths or metal wall bay stands and supporting POS. "We want the customer experience to be easy and enjoyable and introduce a level of enthusiasm when it comes to buying garden machinery. After all, what's better than a beautiful, well-kept garden?!"
For more information, please go to www.handyonline.co.uk