Handy reveals next stage for Cramer professional landscape brand
Company: Handy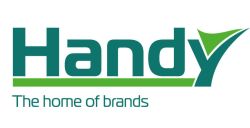 Having successfully introduced the Cramer brand of professional battery-powered tools to the UK, British garden equipment manufacturer and distributor Handy has revealed that substantial investments are set to be made in Cramer by its parent company Globe Technologies, who will take this innovative brand to the next stage.
Mark Moseley, Handy Sales and Marketing Director, states: "We enjoy an excellent working relationship with Globe Technologies, which began – and continues - with the Greenworks brand, and has seen us effectively pave the way for the Cramer brand in the UK. The future of commercial landscaping equipment lies in Lithium-Ion technology, but the levels of long-term investment required to grow and service such a large and aggressive market and growth ambitions, needs a greater and direct commercial focus. With Handy's core market being consumer gardening machinery, we have decided the time is now right for Handy to pass the Cramer baton to Globe, who are now in a position to make a significant investment in the UK operations, including establishing their own operating company and distribution hub."
The Globe group recently floated on the Shenzhen stock exchange, which has enabled them to fund the future expansion of the company worldwide. They will be making substantial investments in Cramer across Europe, with a particular focus on the UK. This funding will not only result in further new technologies and innovative products, including battery ride on mowers, UTVs, robotics, and class leading 82v handheld products but, just as importantly, will enable Globe to establish comprehensive sales and distribution support. New premises to house distribution, after sales, spare parts, finance, and customer services, are already in the process of being acquired, and personnel recruited and trained.
For existing UK dealers of the Cramer brand, the transition from Handy to Globe Technologies UK Ltd. is expected to take place from early 2024. Handy and Globe Technologies will work together closely to ensure a smooth transition, and Handy will continue to manage and support the Cramer business until that transition is completed. Globe Technologies will honour the same commercial terms that are currently in place with Handy.
This latest development will not affect the Greenworks brand of battery powered garden machinery and power tools, which Handy will continue to distribute, along with its other key brands, Webb, The Handy and Q Garden.
For more information visit www.handys.co.uk