elho launches fuente collection
Company: elho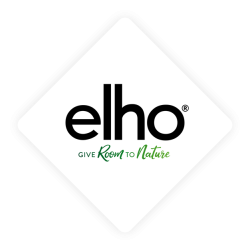 Sustainable plant pot producer, elho, recognises the importance of creating beautiful outdoor spaces, and has designed a new range of pots to give customers the ability to reflect their own style throughout their outdoor areas.
The new fuente collection is available in three distinct patterns – lily, rings, and grains - so there is a style to suit every aesthetic. The lush foliage motif of the lily design is perfect for those who favour a decorative and traditional look, whilst the stylish rings would make an elegant addition to a modern garden, especially when planted up with architectural plants and grasses. The embossed grain pattern offers another style, with an industrial feel, perfect for an urban oasis. For those looking to achieve a more eclectic look, all three designs blend perfectly when displayed together. This collection responds to the trend that patterns that evoke a feeling are increasingly popular: surfaces that are soft or porous, with relief and that stimulate the senses when touched.
The variety within the range continues beyond patterns, with the pots being available in three sizes – 30cm, 38cm and 47cm – as well as having three tonal colours to choose from – onyx black, pebble grey and rusty brown.
The fuente pots also have the benefit of a removable plug, meaning that they are the perfect choice for outdoors, with the plug removed to aid drainage, but they can also be used inside, with the plug inserted.
As with all elho products, they are 100% recyclable, with 80% of materials used made from recycled plastic and are an example of beautiful design and sustainability working hand in hand.
Decorating an outdoor space with plant pots is a great way to bring individual style to life, creating a design statement amongst nature. With the flexibility of plant pots, people can add depth, height and interest, moving them as they wish. This creates a truly personal space, even for those who don't have space for plant beds or planters.
Plant pots help people create a space to nurture and grow plants that are perfect for them, and elho's new fuente range ensures that that space is beautiful and unique as each individual.
For more information, please visit www.elho.com