Regional retail ready for Giving & Living trade show
Company: Giving & Living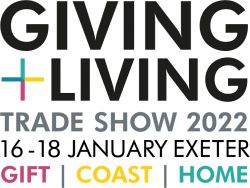 We are pleased to confirm that the Giving & Living trade show in Exeter is going ahead! The show has always been perfectly timed for buyers looking to get ready for the year ahead, but this year it will also be one of the only early shows where retailers can compare, contrast, and place orders this season. Be first in the queue for new!
Giving & Living is the largest gift, coast and home trade show in the region, and buyers will be able to browse the latest products, stock their shelves, and get ready for what is predicted to be another busy season in Devon, Cornwall and the South West.
The show is hosted at Westpoint, near Exeter, from Sunday 16th – Tuesday 18th January. The venue is just 1 mile off the M5 and has loads of free parking. The show will be operating under the government's Plan B and taking all the measures required to make sure that it's a safe and comfortable show for both exhibitors and buyers, such as wider aisles and hand sanitising stations.
Giving & Living is easily accessible from a wide area, and an ideal commute if you need to find a few new lines to stock your shop!
For more information about the show, to book a stand, or register to attend, please call 01934 733433, or visit givingliving.co.uk. You can follow the show on Twitter @giving_living, Facebook at givingliving.co.uk, and Instagram at givingliving.co.uk.