Germie crowned 2023 GIMA Innovators Seed Corn Fund winner
Company: GIMA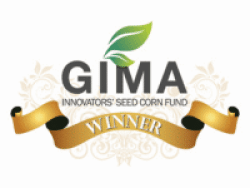 As the doors open on another annual Glee exhibition, the GIMA team is busy crowning this year's winner of the GIMA Innovators Seed Corn Fund (GISCF) – Germie.
The supplier of innovative seed starting kit, Germie impressed the judges with its passion for 'revolutionising the gardening experience' with reusable, innovative and ultra-compact solutions that hold environmental and sustainable practices at their heart. Already a bestseller within the French market, Germie is expected to repeat this success within the UK.
The Germie collection currently features three grow kits, ranging from 13-41 plants, and is suitable for all types of fruits, vegetables and flowers. Each kit is supplied in an easy grab bag, complete with the reusable 'grow cells', with prices ranging from RRP £16.90 - £24.90. Made from locally sourced recycled plastic, fully recyclable and guaranteed for 10-years, the grow cells can be assembled within 60 seconds and filled with seed starter mix and selected seed. From here, seedlings can be encouraged and, once planting out is required, the kit really comes into its own thanks to a unique and patented process. As Germie grow cells do not have a bottom, the plants are not limited and, therefore, the roots continue to grow according to the needs of the seed. As a result, the roots are numerous and well-oxygenated. This, in turn, allows for young plants to be easily released without putting undue stress or damage on the roots during transplantation. Thinning out is also eliminated, as plants can be transplanted directly to the right spot.
Germie also encourages quicker germination, as the seeds are buried at the thickness of the seed, allowing them access to light, water, and nutrients. What's more, the ultra-compact kits provide the ideal conditions for seed development, making it possible to repeat the germination process multiple times throughout the year.
Germie is now the eighth recipient of the GISCF, which was first introduced in 2014. The team will receive an incredible prize fund package, comprising a grant of up to £6,000 which includes a year's full GIMA membership, plus a wide range of business support tools including free exhibition space at Glee and free PR support during the event. In addition, the winners package also includes design, development and manufacturing or marketing cost support up to the value of £3,000; access to an industry business consultant; one-year ACID (Anti Copying in Design) membership; and an advert in the next GIMA Product Digest.
GIMA Director, Vicky Nuttall said: "Congratulations to Germie for scooping this year's GIMA Innovators Seed Corn Fund. The team is bringing to market a concept that is proven in other markets and is set to open up new sales opportunities for UK garden retailers.
"The approach to growing is clearly very considered, whilst the environmental impact of the material innovation is heartening to see. It's a strong proposition that offers a complete, easy-to-follow process that will increase consumer confidence with gardening."
To find out more about the GIMA Innovators' Seed Corn Fund please join GIMA on-stand in the heart of Hall 6 at the GIMA Buyer Lounge.
Germie can be found at Glee within Hall 7 Stand 7F85.
Five minutes with…..Germie' Eric Baudouin
How does it feel to be crowned GIMA Innovators Seed Corn Fund winner this year?
"In a word – incredible! I have always felt confident in what we have created, but to receive an accolade such as this is just beyond expectation. I am so grateful for the recognition and am excited to open dialogue with GIMA and those buyers that I know will now notice us. The GIMA Innovators Seed Corn Fund is an exciting prospect, and I have no doubt it will open doors for us."
How did you hear about the GIMA Innovators Seed Corn Fund?
"When we booked our stand within the Glee Innovators Zone, the award was mentioned to us, and I knew we had to enter. Germie has been a labour of love, and I firmly believe it is the right fit for the UK market, so exhibiting at Glee and having the opportunity to meet with garden retailers feels perfect for the future growth of our brand."
Do you have any experience in the garden retail sector?
"Yes, lots! Germie has been carving out a niche for itself within the French market after living in the UK for a decade. The immediate response from French retailers has helped to catapult the brand into the mainstream, with 130 stores taking stock within five months of launch and almost 200 stores within 8 months.
"I appreciate that the UK market operates differently, but we have a business model, manufacturing partners and innovation that can quickly adapt to the needs of UK consumers and retailers. Rest assured, we're ready to grow!"
What's the long-term goal for Germie?
"The perfect utopia would be Germie replacing all traditional grow pots, in turn eliminating the need for non-recyclable solutions. With Germie offering a 30 – 40 years lifespan, these are products made to last, so we'd like every home to have one – or many! – with Germie being passed down from generation. We also hope that Germie will become synonymous with producing a new generation of confident gardeners that are advocates of reducing waste."
What's the Germie difference?
"Germie are all about growing confident, environmentally conscious gardeners. Offering almost foolproof growing solutions that refuse to compromise on recycled and recyclable ethos', Germie are set to revolutionise growing vegetables, fruit and flowers from seed."