Curcuma Skyline wins Best in Show
Company: HTA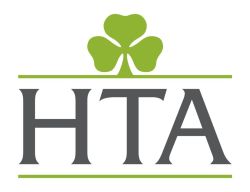 Profitplant BV's Curcuma Skyline has been recognised as Best in Show at the New Plant Awards, sponsored by the Royal Horticultural Society (RHS). The awards took place at this year's HTA National Plant Show, which is running today and tomorrow (20 and 21 June) at the NAEC, Stoneleigh.

The New Plant Awards are the beating heart of the HTA National Plant Show, which showcases the best in new plant introductions from plant suppliers. Curcura Skyline also won the Houseplants category and is recognised for its stunning flowers resembling large cones or torches that can grow up to 18 inches tall. The flowers have pink bracts that surround yellow flowers creating a beautiful contrast. The plant's leaves have a vibrant green colour which give it a tropical appearance.
HTA Horticultural Support Manager Martin Simmons said, "This year there were a record 125 entries across four categories, with the houseplants category receiving more entries than ever. We judged against quality, suitability for the market and originality, and Curcuma Skyline scored the maximum amount in all areas. It is completely different with really good sales-appeal."
"Curcuma Skyline is a relatively easy plant to grow and care for. It prefers bright indirect light and well-draining soil that is kept moist but not waterlogged. It can be grown in a pot or container indoors or outdoors in warm, humid climates."
"The New Plant Awards are central to the show and create an area bursting with inspiration for our visitors."
Judge Chris Young of CY Gardens commented "It's always so interesting to see the new plants that consumers are going to be buying in the coming months. As ever, there was a great range of innovative and exciting plants on offer at this year's show, with breeders and developers clearly focusing on plants for smaller spaces. In addition, whether indoor or for outdoors, there was interesting leaf structure and of course great colour."
Other winners included:
Herbaceous Perennials category: Allensmore Nurseries Ltd, won Best in Category with Agapanthus Orientalis Black Jack. Suitable for pots and beds. Its inky buds open to reveal intense violet, black rounded flower heads, packed densely with individual florets, and dark vigorous evergreen leaves.
Annuals category: Ball Colegrave Ltd's Dahlia. Dalina® Maxi Starburst Pink has a fantastic flower form and carries strong pink and yellow colours. The yellow almost appearing as if a star is bursting from its centre. It will bloom all summer long from mid Spring with the minimum of maintenance.
Trees, Shrubs & Climbers (including Conifers): Wyevale Nurseries Ltd won Best in Category with Fatsia Japonica Camouflage, which offers white ball shaped flowers in autumn on stunning three tone variegated foliage. The plant is perfect for pots as a large specimen, outside or in a conservatory.
See the full list of winners here: www.nationalplantshow.co.uk/features/new-plant-awards
This year's judging panel included Emma Allen (RHS), Andy Bunker (Alton Garden Centre), Cath Quinney (Bennybeg Garden Centre) Michael Perry (Mr Plant Geek) and Chris Young (CY Gardens), with HTA's Consulting Horticulture Manager Pippa Greenwood and Horticultural Support Manager Martin Simmons overseeing. The RHS sponsored the New Plant Awards, and Joy of Plants validated all the entries.