British exhibitor group at spoga+gafa 2023
Company: Gardenex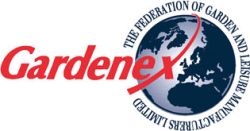 The UK exhibitor group at this year's Gardenex-organised British pavilion within spoga+gafa is offering buyers from across the world a multitude of new product launches.
Spoga+gafa, the world's leading trade fair for the garden and leisure sector, returns to Cologne, Germany on 18-20 June 2023.
The British pavilion will be located in a prime spot in Hall 9 (stand D-032), where the experienced Gardenex team will be manning the industry information stand, offering export advice to suppliers and market information plus new product information to show visitors.
The show attracts garden product buyers from garden centres, DIY stores, webshops/mail order, supermarkets and a diverse assortment of other retailers that include gardening within their range.
The British companies and their products are as follows:
C Long Design Studios – Garden Centre Design (Hall 9, Stand D-034)
As specialist consultants to the garden centre sector, the company offers a range of services including site development, strategy, master planning, planning applications and negotiations, retail and interior design, architecture, project management and retail/business consultancy. Its experienced planning, design and consultancy teams work on projects throughout the EU, UK and USA, ranging from feasibility studies to full site development.
EverEdge Ltd (Hall 9, Stand D-038)
For more than 25 years, EverEdge has been manufacturing a wide range of steel lawn edging solutions for gardeners and landscapers both in the UK and overseas. Additionally, EverEdge manufactures a range of planters both custom and stock sizes. All the firm's products are made in the UK to a very high quality standard that have not let down the company's reputation as a premium manufacturer of lawn edgings and planters. It can supply in painted, Corten and galvanised finishes. With a CAD design team, EverEdge is well equipped to look at any bespoke project, large or small.
GARDENSKILL LTD (Hall 9, Stand D-036)
The company offers a range of UK-designed innovative gardening solutions including modular hooped garden grow tunnels, patio and pop up greenhouses, extendable raised garden planters, plant frost protection umbrella cloches, tomato, pea and heavy climbing crop support frames, decorative bamboo pot covers, bird mesh fruit tree guards and more.
New for spoga+gafa 2023, Gardenskill is showcasing its huge range of versatile plant stakes and tubing connectors to build outdoor plant protection frames, plant covers and grow houses of all shapes and sizes.
Grow Sow Simple (Hall 9, Stand D-030)
Grow Sow Simple is proud to be back at the show to launch its range of exciting grow your own products. New to the show is SeedCell, the latest innovation in grow your own. SeedCell is a biodegradable seed pod which you plant. The only kind in the world, it is made from 100% recycled materials and 100% plastic-free.
New to spoga+gafa is Micro-grow, a self-watering, soil free, fully hydroponic all in one microgreens kit with a refill pack available. Micro-grow is guaranteed to grow and yields incredible results. Perfect for the kitchen windowsill or an office desk to capture the urban gardening market. This device needs little space, just some water and a little sunlight.
Home 2 Garden Ltd (Hall 9, Stand E-041)
This company's Bird Bath combines functionality and class to create a calm and comfortable oasis for birds. The piece doubles as a focal point that adds to the ambiance of any outdoor area. It features textured basin with hammered accents to provide your birds with steady footing while they bathe, play, and preen. The birdbath has been made from Polish recycled glass.
HUG RUG (Hall 10, Stand A-020)
Manufactured with up to 90% recycled materials and washable at 30°C, Hug Rugs® are the perfect barrier mats for any home. They are made of incredibly soft recycled cotton, are super-absorbent and excel at trapping dirt, dust and mud. Not only can a Hug Rug® bring style to a living space, but they help keep it clean and hygienic too.
PANACEA PRODUCTS LTD (Hall 9, Stand E-033)
Panacea, a large family business for 50 years, is a brand leading manufacturer of decorative garden products and proud to be renowned for high quality and exciting product development which introduces extensions into its Symphony Wind Chime Range; high quality super competitive professionally tuned chimes. The company also offers extensive and competitively priced Garden Décor, Pot Toppers, Grow Your Own, Landscaping, Fencing, Arches, Trellis, Obelisks, Hanging Baskets, Raised Beds, Planters, unique Birding items and the highly successful Open Hearth™ Fireside Accessories range. Its products are also made from the highest quality galvanized tubular steel for lasting anti rust and UV protection.
Porous Pipe (Hall 9, Stand D-040)
Porous Pipe retail stands come with 15m retail kits and 25m retail kits providing all the fittings and connections to get you started. Artwork on the stands can be changed to bespoke designs to the customers' branding, this is also the case for the display TVs.
Red Gorilla® (Hall 9, Stand E-037)
At Red Gorilla® (formerly known as Tubtrugs and Faulks & Cox), the company specialises in superior quality, innovative products with millions of uses. Tubtrugs® were originally created in 1996. Since then, the range has been expanded, now offering a variety of 13 colours in 8 different sizes, and continues to develop. The products are food grade, eco-friendly, child-safe and animal-safe, meaning they are practical for every use possible.
tobs® The Old Basket Supply Ltd (Hall 9, Stand E-031)
tobs® design registered Loungers Sets are amongst the bestselling (if not the bestselling) garden furniture sets in the UK. Why? They are extremely comfortable; no cushions are required; they are suitable for garden or home; the chairs and table fold for easy storage; they come in a choice of colours and are well priced. Sold on an FOB basis from the firm's factory in China, they can be shipped with no packaging, in mail-order boxes or loose packed, with cartons flat packed in the container. The company is looking for experienced distributors in the EU, and elsewhere in the world. Mark and George look forward to speaking with you.
TRIMETALS LTD (Hall 6, Stand A-043)
Trimetals has been established for over 50 years and is firmly placed as Europe's leading producer of quality metal storage buildings. Trimetals is returning with its ever-popular bicycle store with generous height and width dimensions to store most types of mountain or racing bike, accommodating up to three bikes. Trimetals also manufactures garden boxes where lawnmowers, barbecues, tools and furniture can be stored tidily.
Complementary to its range are the excellent Guardian range of exclusive garden buildings designed by Trimetals' Japanese partners. This range features a contemporary design, ideal for the modern garden.
Whitefirze Ltd (Hall 9, Stand E-035)
Whether you are looking for a stylish, decorative planter to complement your conservatory décor, or a tough, practical propagator for use in the greenhouse, Whitefirze has durable, quality garden products to suit your needs. Indoor or outdoors, traditional or contemporary, in plain terracotta or bright colours, its quality garden range delivers form and function whilst representing excellent value for money.
Wildlife World (Hall 9, Stand E-039)
As the UK's premier designer and manufacturer of wildlife habitats and feeders, Wildlife World has always maintained a solid commitment to offering a wide range of environmentally conscious high-quality products that are fit for purpose. It is one of the few suppliers with its own workshop and can offer bespoke productions. The uniquely designed products are tested locally and thoroughly before being offered to clients and customers. The firm is proud that its considered, award-winning and innovative wildlife products make a significant, ongoing contribution to species survival across the world. Wildlife World's commitment to nature is profound and part of its unique identity.
Gardenex (Hall 9, Stand D-032)
The Federation of Garden & Leisure Manufacturers Ltd is the UK export trade association that brings together UK suppliers and international buyers. Gardenex provides a free supplier and product sourcing service for international buyers, and its sister division, PetQuip, offers similar services in the petcare product sector. The association's team is manning a garden and leisure industry information stand within the pavilion at the show. Free refreshments are available on the stand for overseas buyers, and visitors can obtain their copy of the just published 2023 edition of the Federation's Guide to British Gardening Products and Services.
The Federation's team looks forward to meeting international buyers and industry contacts at the show on our stand, where visitors will receive a warm welcome.
For further information on the British exhibitor group at spoga+gafa please contact Lydia Stubbs at lydia@gardenex.com