Blue Diamond Group to create Artisan Garden
Company: Blue Diamond Group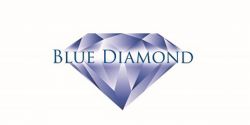 Today, The Blue Diamond Group, the UK's second largest Garden Centre Group, has announced it will be designing an Artisan Garden at the prestigious RHS Chelsea Flower Show when it returns in September (20-26th September).
The Blue Diamond Forge Garden is a collaborative design by the team at The Blue Diamond Group who have combined their expertise to create their first garden at the show. The team are working alongside multi-medal winning landscaper, Ross Conquest and his team Conquest Creative Spaces for the construction of the garden.
The garden celebrates the artisan craft of Blacksmithing, inspired by the National Trust's Branscombe Forge in Devon, which dates back to the 15th Century and continues to operate today. The Blue Diamond Forge Garden in effect is a historical record of Blacksmiths through the ages, a place to feel relaxed, inspired, a functional forge set in a very naturalistic, yet practical setting.
The Garden features a thatched roofed forge built from natural material, containing art and artefacts from previous blacksmiths. A garden full of wildflowers surrounds the forge providing inspiration for the resident Blacksmith's metalwork whilst edible plants, medicinal herbs and a stream that flows through the garden provides food and water. Bespoke pieces of art created by today's Blacksmiths at Branscombe Forge will complete the gardens authentic feel.
Alan Roper, Managing Director of the Blue Diamond Group said: "We have exhibited in many RHS shows over the years under our Fryer's Roses brand, however we are proud and excited to be creating our first Blue Diamond garden at the prestigious RHS Chelsea Flower Show this year. "
"As a company The Blue Diamond Group recognises and cherishes its heritage, whilst evolving to be relevant to today's customer. Creativity is very much at the heart of our retail ethos in our centres throughout the UK and Channel Islands. As a team, we wanted to create a garden that represents the ethos of The Blue Diamond Group which we have done by taking inspiration for the garden from the artisan craft of Blacksmithing and the National Trust's historic Branscombe Forge where I have personally visited many times over the past 40 years!"