Wyevale Nurseries' welcomes new management trainee
Company: Wyevale Nurseries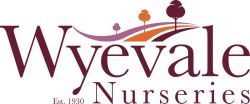 Julia Giermaniuk from Tarrington has recently joined one of the UK's leading commercial nurseries in Hereford on its Management Trainee scheme (October 2021).
The 24-year-old has started a two-year programme at Wyevale Nurseries working across all departments of the family-run business including Supply Chain, Container Production, Transplants and its Head Offices.
Julia said: "I'm very excited to be starting this programme. I was fortunate to join Wyevale Nurseries earlier this year in the spring, when I gained experience in growing, potting and propagation, so it's wonderful now to be progressing in this way.
"It will be great to continue expanding on my horticultural knowledge with such expertise around me and seeing how the other departments are run across the business. My first year will mostly be in Hereford and I will be working with the Container Production and Supply Chain teams."
For her second year, Julia will transition to the Transplants and Trees Divisions.
The Aberystwyth University graduate, who is originally from Augustów, Poland holds an undergraduate degree in Plant Biology and a master's degree in Biotechnology.
Before attending university, Julia was also a pupil at Whitecross High School Hereford, and then Hereford Sixth Form. Prior to joining Wyevale Nurseries, she worked in the hospitality sector in the county at Café Bodega, Mowchak and Yates.
In her spare time, Julia enjoys walking her dogs, Iva, a one-year-old German Shepherd and Ash, a nine-year-old Labrador, in the Herefordshire countryside and tending to her array of indoor and outdoor plants.
Carol Dickinson, Head of Business Support, said: "Julia is a very welcome addition to our team here at Wyevale Nurseries. We're delighted that she's part of our Management Trainee Scheme. She already has great experience and has fitted in seamlessly since she joined us earlier this year.
"We look forward to working with her in our various departments and will be excited to see how she develops."
Assessment during the Management Trainee Scheme will be through regular reviews and assessing performance against agreed objectives. Julia will have a mentor to meet with on a regular basis. There will also be a Programme Co-ordinator to support her and to ensure that regular constructive reviews are undertaken.
For further details about Wyevale Nurseries, which is based in Hereford, please call 01432 845 200.