Wyevale Nurseries hunts for new staff to help it grow
Company: Wyevale Nurseries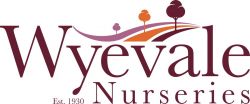 One of the UK's leading commercial nurseries is searching for new employees this month to help meet demand as the business continues to grow (September, 2018).
Wyevale Nurseries is currently searching for a Sales and Marketing Director and an Amenity Sales Executive to enhance its already talented team and to boost its burgeoning sales going forward.
Andy Johnson, Managing Director at Wyevale Nurseries, explained: "We've had a marvellous year so far, having had the best May ever in our recorded trading history with sales up by 14%. We've also seen year-on-year (2017-18) growth of 17% in shrub sales and 19% in herbaceous and 60% in the sales of ferns.
"Our early summer sales continued at record levels and it looks set to be another successful year for us all-in-all.
"Now we're looking to embrace these results and take the business further in 2019. We're looking for a Sales and Marketing Director to co-ordinate the development of our sales, marketing and trading activities across all our product and market sectors, promoting the Wyevale Nurseries brand, driving up customer satisfaction and profitability across the board.
"Keeping our customers' happy is key to our success and we have forged many wonderful relationships down the years, so we're keen to interview people with great interpersonal skills and industry contacts.
"We are also currently seeking an experienced Sales Executive to join the amenity sales department. They too will need to be customer-focused and facing, have a good knowledge of the industry and be an experienced plantsperson. Communication is key with both roles, so we'll expect to interview people who have plenty to say and are excellent at getting their message across.
"As these roles are so vital to the business, I'd like anyone interested in applying for them to contact me direct via andy@wyevale-nurseries.co.uk. I am more than happy to chat to people about the roles or to simply receive covering letters and CVs. The closing date for applications is Friday, October 19."
Wyevale Nurseries' new Sales and Marketing Director will also be expected to manage, motivate and develop the company's seasoned sales team, while identifying new opportunities and innovative ways to delight its customers.
"We're looking for people who love our ethos and culture, embrace the heritage, but can also come in and give us plenty to think about, help us to expand further and move forward with a 21st century environment very much in mind.
"It's paramount our new Sales and Marketing Director works in conjunction with all the other sections of the company to ensure the business continues to offer a market-leading product range and service that's fit for the future."
For further details about Wyevale Nurseries, which is based in Hereford, please call 01432 845 200, visit www.wyevalenurseries.co.uk, follow the company on Twitter at www.twitter.com/WyevaleNurs or log on to www.facebook.com/WyevaleNurs.