Robin retires after 39 years at Wyevale Nurseries
Company: Wyevale Nurseries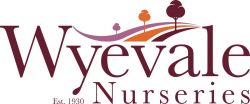 Robin Trumper from Hereford celebrated his retirement yesterday (Wednesday, March 20, 2019) after 39 years of service at one of the UK's leading commercial nurseries.
Robin, who was an Amenity & Landscape Sales Executive at Wyevale Nurseries in Hereford, started working at the firm in October 1980.
Andy Johnson, Managing Director of Wyevale Nurseries, said: "Robin has been an incredibly loyal and committed member of the sales team for nearly 40 years, with an encyclopaedic-like knowledge of plants, suppliers and the history of production methods.
"He was always willing to give an opinion and answer all manner of questions to help colleagues and customers alike. Robin had been considering retirement for a number of years, with plenty of hobbies and interests to keep him busy, but in typical Robin-style, he decided the spring equinox was as good a day as any.
"On behalf of all the staff here at Wyevale Nurseries and our customers, I would like to wish him all the very best for the future. He will be missed."
Prior to his role at Wyevale Nurseries, 65-year-old Robin worked as the Under Manager at Blenheim Palace Garden Centre for Great Gardens of England. He also travelled to the USA for 15 months to grow Rhododendrons and Azaleas.
The father-of-two has a National Certificate in Horticulture from the Welsh College of Horticulture and an Ordinary National Diploma in Horticulture from Pershore College.
Robin said: "It's been a pleasure working at Wyevale Nurseries over the years. We've had a lot of laughs along the way and some good parties. I will, no doubt, miss the people and the banter but not the work anymore, after a lifetime of working. I am looking forward to getting stuck in to my allotment."
Robin will also be spending his time beekeeping, fishing and enjoying the great outdoors.
The product selection available from Wyevale Nurseries is envied across the industry and the talented team regularly introduces new, award-winning plant varieties.
Its main business is to supply garden centres, landscape contractors, local authorities, foresters and landowners with a comprehensive array of trees, shrubs, hedging, herbaceous and specimen plants.
For further details about Wyevale Nurseries, which is based in Hereford, please call 01432 845 200, visit www.wyevalenurseries.co.uk, follow the company on Twitter at www.twitter.com/WyevaleNurs or log on to www.facebook.com/WyevaleNurs.