Prestigious RHS Victoria Medal of Honour Awarded to Nick Dunn
Company: Frank P Matthews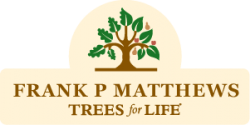 The Royal Horticultural Society (RHS) has awarded its highest honour, the Victoria Medal of Honour (VMH) to Nick Dunn, Managing Director of Frank P Matthews, for his service to the horticultural industry for over 40 years.
The VMH is awarded to British horticulturists deserving of special honour by the RHS for horticultural excellence and personal endeavour. It is internationally regarded as being the highest distinction in horticulture. Only 63 medals are ever held at one time to commemorate the number of years Queen Victoria was on the throne.
Nick is the grandson of Frank P Matthews and as well as running the family business he has taken on many other roles in the industry, including:
President of International Plant Propagation Society (IPPS) 1984-1985
HDC Hardy Nursery Stock Chairman
Current Chairman of the Royal Horticultural Society (RHS) Fruit, Vegetable and Herb Committee
NFC Defra Advisory Committee
Director of The Batsford Foundation at Batsford Arbouretum
Director of The Marcher Apple Network
Author of 'The Tree Guide for Gardens' (2001)
Nick has been absolutely overwhelmed by the messages of support and congratulations he has received and sends his appreciation for all the kind comments from industry colleagues and friends.
Nick's father, Andrew Dunn, was also awarded the VMH in 2003.