P&A Group takes on IRONMAN Wales challenge for charity
Company: P&A Group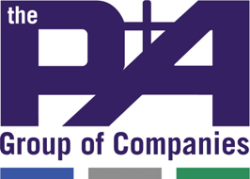 Managing Director of P+A Group, Steve Morgan and P+A Fencing & Timber Technical Manager, John Vaughan are taking on the gruelling IRONMAN Wales challenge in Tenby as part of the company's charity fundraising efforts.
The IRONMAN Challenge is considered to be one of the toughest competitive triathlons in the world and consists of swimming for 2.4 miles, cycling for 111 miles, and running a 26.2 mile marathon to the finish line.
The company's chosen charity for 2018 is Action for Children. The charity, which has been operating for 148 years, helps disadvantaged children across the UK and works closely with other charities, local authorities and health services.
P+A Group has a fundraising target of £10,000 and is already on the way to achieving it, having raised over £6,000 so far this year.
Managing Director, Steve Morgan says: "IRONMAN Wales is a great event to get involved in as a company, P+A Group take part in a range of events throughout the year that promote employee fitness and IRONMAN Wales allows people to participate in a highly competitive fitness challenge whilst raising money for a good cause.
"I have taken part in IRONMAN Wales for a few years now and I am really hoping to not only beat my own personal time this year but also beat last year's sponsor target.
"Afterwards, I will be heading straight to the Glee tradeshow at the NEC in Birmingham, to support the Zest 4 Leisure team who will be showcasing our new products for the 2019 garden trade season."
P+A Group is a family run company with a long-standing history of raising money for good causes. In the last five years, it has specifically chosen to support one charity each year, in addition to taking part in charitable events organised by the industry from marathons to charity Golf Days, and other sporting events.
In October, employees will be aiming to complete the Chester Marathon; some employees may even be dressed as pandas!