New international sales director for Landmann
Company: Landmann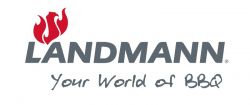 Landmann restructure for ambitious plans for global growth with the new appointment of a new International Sales Director.
Further to a management restructure at Landmann Germany, the current Managing Director of Landmann UK Limited, Martin Carnaby, has been promoted to the position of International Sales Director for Landmann worldwide.

Landmann have subsidiaries throughout Europe, the USA, Australia and more recently South Africa. The appointment is with immediate effect and Martin will remain based in the UK to oversee and manage all sales activities for the Landmann Group. The main headquarters of Landmann is based in Bremen, Germany.

Martin Carnaby says 'This is an entirely new position within our organisation and I am really looking forward to sharing my experience of the UK market will my colleagues in different global markets / regions. The UK market is one of the most competitive and advanced retail markets in the world and I believe that this knowledge should be an advantage when managing other subsidiaries'.

Martin will still retain some key accounts in the UK and these will be jointly managed with Luke Hopkins, Key Accounts Manager until the appointment of a Sales Director for the UK sometime early next year.