New apprentices for Bransford Webbs
Company: The Bransford Webbs Plant Company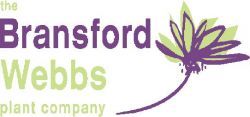 The Bransford Webbs Plant Company are very proud to announce that two new apprentices will begin working with them in September. Arthur Dawes and Billy Wilce have both been offered a position on the nursery team.
Along with other midlands based growers and in conjunction with Pershore College, part of the Warwickshire College Group, Bransford Webbs offers a two year apprenticeship, with a level two work based diploma in horticulture. During the apprenticeship, both members of staff will work in a variety of departments on the nursery alongside gaining their horticultural qualification.

"Without our apprenticeship scheme we would not be the business we are today", said Geoff Caesar, Managing Director. "We have always looked for apprentices who want more than just a job. Working in ornamental horticulture is a career choice with many opportunities requiring a range of technical, organisational and people skills. We are looking forward to both Arthur and Billy joining our team at Bransford Webbs".