Mr Fothergill's marks Peter's 80th with painting of Seabrook's Lavender
Company: Mr Fothergill's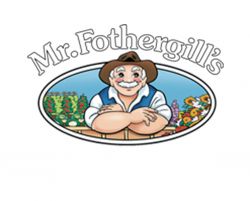 Suffolk seedsman Mr Fothergill's marked leading garden writer Peter Seabrook's 80th birthday in early November with the gift of a painting of Verbena Seabrook's Lavender by botanical artist Isobel Bartholomew.
The presentation was made to Peter, who has worked in horticulture for more than 60 years, by the company's joint-managing directors David Carey and John Fothergill at a celebration lunch. "We wanted to mark Peter's outstanding contribution to the world of gardening in a unique way, and felt a painting of the flower he discovered and developed was appropriate", remarked John. "His enthusiasm, and in particular his commitment to encourage youngsters to grow plants is remarkable"
Peter Seabrook commented "I had never thought of commissioning a botanical drawing for my Verbena and the framed painting was an unexpected and most welcome gift. I could not be more pleased with both the thought and action by Mr Fothergill's staff".