Levina joins Wyevale Nurseries as an Apprentice
Company: Wyevale Nurseries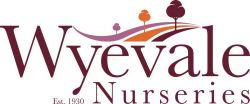 Levina Bromwich has recently (November, 2016) started a two-year apprenticeship programme at one of the UK's leading nurseries based in Hereford.
Sixteen-year-old Levina, who lives in Peterchurch, has taken on a Level 2 Diploma in Production Horticulture at Wyevale Nurseries.
Adam Dunnett, Sales and Marketing Director at Wyevale Nurseries, said: "We would like to welcome Levina to our team. We are passionate about encouraging young people in to our industry and we now have three apprentices at our nurseries.
"Levina's apprenticeship is a specifically designed National Apprenticeship Programme for the Midland Regional Growers in conjunction with Pershore College. During the next two years, Levina will gain experience in our multiple departments and has started her training in our propagation area.
"She is doing very well in all aspects of her apprenticeship so far. Levina is a good team member, who works hard and asks lots of questions. Her first week at Pershore College will commence on November 7 for one week."
Levina attended Fairfield High School in Peterchurch and in her spare time she likes to go walking and also enjoys sketching.
Levina added: "I would like to thank Wyevale Nurseries for giving me this opportunity. I have learnt so much already in a short space of time and can't wait to get stuck in further.
"My favourite part so far has been working with the moving crew moving in crops, which need protecting from the winter and also working on the potting machine."
The product selection available from Wyevale Nurseries is enviable across the industry and the talented team regularly introduces new, award-winning plant varieties.
Its main business is to supply garden centres, landscape contractors, local authorities, foresters and landowners with a comprehensive array of trees, shrubs, hedging, herbaceous and specimen plants.
For further details about Wyevale Nurseries, which is based in Hereford, please call 01432 845 200, visit www.wyevalenurseries.co.uk, follow the company on Twitter at www.twitter.com/WyevaleNurs or log on to www.facebook.com/WyevaleNurs.