Kyle and Chris celebrate promotions
Company: Wyevale Nurseries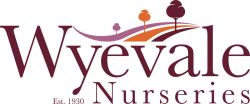 Two members of staff at Wyevale Nurseries in Hereford are celebrating this month (June, 2018) after both receiving promotions.
Kyle Ross has been promoted to Production Manager at Wyevale Containers Division and Chris King has accepted the role of Assistant Production Manager at Wyevale Transplants Division.
Andy Johnson, Managing Director at Wyevale Nurseries, said: "We would like to congratulate Kyle and Chris on their new positions. They are both very hard working and driven individuals and are an asset to our company.
"Twenty-four-year-old Kyle will be reporting to Steve Reed, our Production Director of the Container Division, and will be responsible for biosecurity, growing, stock control, crop protection and product development. Kyle has a keen interest in biosecurity, pest and disease and plant quality, prior to his promotion he was our Plant Health Coordinator.
"While 25-year-old Chris will report to Ray Jenkins, our Production Director of the Transplant Division, and will be responsible for supporting all production activities, stock control, production records and crop costing. Chris found his vocation in our Transplant Division as he is interested in the production side of the business and enjoys working within a dedicated team who are outside in all weather. We all wish Kyle and Chris all the best in their new positions."
Kyle, who is originally from Worcester and also a Wyevale Nurseries' Peter Williamson Travel Award winner, gained a BSc in Horticulture from Pershore College, prior to his role at Wyevale Nurseries. Chris graduated from Writtle College with a BSc in Horticulture in September 2015. Before his position at Wyevale Nurseries he worked at Aylett Nurseries in St Albans.
Kyle and Chris both undertook Wyevale Nurseries' in-house, two-year, Management Trainee Programme, which covered all areas of the business.
Andy added: "This year we will be launching our Graduate Trainee Programme, which is not only open to those wishing to go into nursery production but any element of the business including finance, IT, sales or marketing. The programme is open to graduates of all degree disciplines.
"This is a two-year programme that covers all areas of the business. What we are looking for from our potential Graduate Trainees is a positive 'can-do' attitude and that they enjoy being challenged to come up with solutions.
"We want them to be innovative using not only their ideas but also assessing and supporting others' ideas. Successful applicants will be responsible for their own learning and should be able to demonstrate a proactive attitude towards learning opportunities. We want candidates to also be career-minded, ambitious and flexible in their approach."
The programme will be delivered through on the job training, attending plant identification training, visiting other nurseries, attending trade shows and conferences, attending any external courses if required, project work shadowing managers/supervisors, observing and participating in meetings.
Assessment will be through regular reviews and assessing performance against agreed objectives. Each trainee will meet with the Programme Co-ordinator, Steve Pandeli on a regular basis. This will be to support the trainee and to conduct regular constructive reviews.
Andy added: "Upon successful completion of the programme, it is anticipated that we shall be able to match trainees to a suitable role with the company which would benefit from their particular strengths."
Applicants should forward a copy of their current CV with a covering letter describing why they are the right candidate for the programme to stevep@wyevale-nurseries.co.uk.
For further details about Wyevale Nurseries, which is based in Hereford, please call 01432 845 200, visit www.wyevalenurseries.co.uk, follow the company on Twitter at www.twitter.com/WyevaleNurs or log on to www.facebook.com/WyevaleNurs.