Joshua presented with Peter Williamson Travel Award
Company: Wyevale Nurseries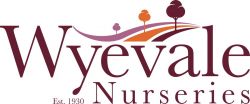 Joshua Stone from Pershore College has recently (June, 2018) been presented with Wyevale Nurseries' Peter Williamson Travel Award.
The 19-year-old, who has just finished in his first year of a Level 3 Extended Diploma in Horticulture, scooped the accolade after impressing the judges with a written submission and an interview.
Steve Ashworth, Director at Wyevale Nurseries in Hereford, explained: "We would like to say a huge congratulations to Joshua on winning this prestigious award. We designed it to encourage a student towards a career in nursery stock production by assisting with a practical placement at a nursery in the Netherlands.
"Joshua was chosen as the winner due to his spirit of adventure, his application to study and participate in extra-curricular activities at college, and his belief that we all have to step outside our comfort zones to gain anything. As an aspiring landscape architect, Josh hopes to progress on to the Landscape Design degree course at the University of Gloucester.
"The Peter Williamson Travel Award was started in memory of Wyevale Nurseries former owner and chairman, Peter Williamson, who passed away in 2011.
"Annually the award is presented to a student at Pershore College in Worcestershire, which was Peter's own seat of learning in the 1960s. The award subsidises and organises for the successful applicant to do a period of work in the Netherlands during the college summer vacation, as Peter also did more than 40 years ago."
Joshua will spend six weeks with Menkehorst Nurseries in Hengelo, Netherlands, starting on July 17. Wyevale Nurseries also presented Joshua with £500 to help pay for his travel costs.
Joshua said: "I feel honoured to receive this award and I am very excited about the opportunities it will provide.
"As this will be different from what I've done before, I'm sure the skills I learn from this placement will have a lasting impact on my career. I hope to be a good representative for Wyevale Nurseries and to create a good business connection between the two nurseries."
For further details about Wyevale Nurseries, which is based in Hereford, please call 01432 845 200, visit www.wyevalenurseries.co.uk, follow the company on Twitter at www.twitter.com/WyevaleNurs or log on to www.facebook.com/WyevaleNurs.