Four staff members clock up 120 years of service
Company: Wyevale Nurseries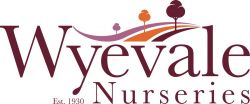 Four members of staff from Wyevale Nurseries in Hereford were recently (June, 2019) presented with medals to honour their long service to the company.
Andy Johnson, Chris Mason, John Sockett and Sheila Jackson all received bronze medals from the Three Counties Agricultural Society for 30 years continuous service.
Heather Williamson, Joint Chairman at Wyevale Nurseries, said: "I would like to say congratulations to Andy, Chris, John and Sheila for receiving their long service awards. They have given a collective of 120 years of service to the business, which is simply amazing. We can't thank them enough for their continued hard work and support. They are very skilled and dedicated staff members. We're very lucky to have them as part of our team.
"Andy joined us as a management trainee in July 1988, after gaining a BSC in Horticulture from Reading University. Having worked in a range of departments he was appointed Manager of Floralmile Roses Ltd specialising in the production of mass planting landscaping roses.
"After a reorganisation of Wyevale Nurseries in 1996 he took up the role of Container Production Director, which he enjoyed for many years. This led to a greater involvement with retailers, managing contract production for group customers, as well as the full range of amenity and retail products.
"This then led to a period as Managing Director of Wyevale Container Plants Ltd. Following a further reorganisation of Wyevale Nurseries in 2013 he was appointed Managing Director of Wyevale Nurseries, which is his current role. We would very much like to thank him for all his hard work and dedication over the years and hope he continues to work for us for many years to come."
Fifty-five-year-old Chris is the Director of Wyevale Nurseries' Tree Division and he has devoted his 30 years' service to growing trees in what can be a very challenging environment.
Heather added: "Chris has shown to be totally committed to the job. He has faced all the various challenges with vision and enthusiasm and demonstrated strong leadership for his staff."
Fifty-year-old John is a key member of the Tree Division. He started out as a craftsman learning all the nursery skills at a young age standing him in good stead for his future career.
Heather continued: "He progressed with the business as it has evolved during the 30 years of his career, always embracing new and improved tree production techniques and taking on important responsibilities within the company. John is a very popular member of staff and welcomes and supports all newcomers to the business."
Sixty-eight-year-old Sheila is Wyevale Nurseries' Receptionist. She started working for the company on June 8, 1989. Her first role was checking orders on cash and carry. Sheila developed her skill set to book the Cash and Carry orders and credit notes. Progressing further Sheila went on to be the supervisor for the Garden Centre Sales and Amenity Sales order processors.
Heather continued: "Around 28 years ago Sheila took over as front of house and has become the longest serving receptionist in our history. She has continued in this role while still working closely with the Cash and Carry sales team, supporting them with all aspects of administration.
"Sheila is a committed and highly valued member of team. Her ability to adapt over the years with changing staff and work practices has been inspiring."
Wyevale Nurseries is a member of The Three Counties Agricultural Society, which issues medals to people who have completed continuous service to horticulture or agriculture with the same employer or holding company.
Ken Nottage, Chief Executive of the Three Counties Agricultural Society, said: "Here at the Three Counties Agricultural Society, we are delighted to recognise the loyal commitment of Chris, Andy, John and Sheila with our 2019 awards.
"The Three Counties Awards seek to champion the long-standing contributions made by horticulture and agricultural businesses such as Wyevale Nurseries to the communities of the Three Counties. Chris, Andy, John and Sheila should be extremely proud of their achievements."
The society is a registered charity working for rural industry, the environment and countryside life. It is committed to supporting farmers, growers and horticulturists in the region and developing understanding between urban and rural communities.
For further details about Wyevale Nurseries, which is based in Hereford, please call 01432 845 200, visit www.wyevalenurseries.co.uk, follow the company on Twitter at www.twitter.com/WyevaleNurs or log on to www.facebook.com/WyevaleNurs.