elho demonstrates continued growth, innovation, and excellent customer support
Company: elho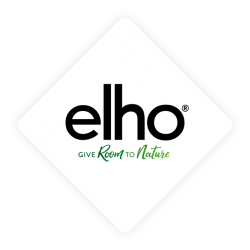 As a year of unprecedented challenges across all industries draws to a close, elho continues to grow and further its reputation as one of the leading synthetic container suppliers in the UK.
elho's commitment to its customer service is highlighted with the appointment an experienced new sales rep to cover the south west, meaning the company now has full UK coverage.
Despite lockdown, elho has continued to innovate, design and create, ensuring that its new product launch plans are unaffected. The 2021 product launches continued as intended and the 2022 lines will be announced earlier than ever at spoga+gafa, with the show now taking place in May. This continued drive and growth helps push the sector forward and sees the company firmly placed as a leader of it.
This commitment to its customers is further demonstrated as the flow of product and supply of stock to garden centres has remained steady, with lead times being unaffected even by lockdown measures. elho has been working hard to ensure that it has been able to easily fulfil demand, which has been at unprecedentedly high levels this year.
Sales manager, David Nicholson said: 'We have fully caught up with the high demand over the last five months (70% higher) and we are back to delivery rates of 95%. We have made extra investments in extending our production and warehouse capacity. Our stock levels are higher than normal this time of the year to support customers the best we can and we will further build extra safety stock for the new season.'
The elho Group brand is also launching easyday in January, to offer more variety to garden centres and meet the demand for an affordable, basic range that others have been unable to meet. The range includes a watering can, flowerpot, trough and balcony planter, with RRPs starting at £2.99.
For more information on any of the above and for details about stocking the new elho collections please contact david.nicholson@elho.nl.