Crazy challenges for Garden Re-Leaf Day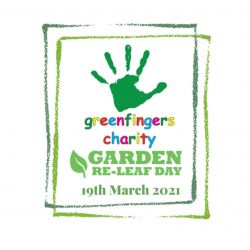 Back the Greenfingers fundraisers who will be walking, running, skipping, cycling, quizzing, abstaining, shaving their heads, mowing, planting and donating on Garden Re-leaf day this Friday 19th March.
Shavers to raise £10,000
Sue Allen, Greenfingers chairman, and her daughter Tammy Woodhouse, MD of Millbrook, will be braving the shave at Millbrooks', Gravesend Garden centre at 11am on Garden Re-Leaf Day (Friday 19th March).
Speaking about their head-shave, Sue said: "In an effort to make a big difference on the 10th Garden Re-leaf Day, my daughter Tammy and I have made a huge and somewhat crazy commitment to raise at least £10,000 by having our heads shaved at Millbrook's Gravesend Garden Centre on Friday 19th March to mark Garden Re-Leaf Day.
If you would like to support Sue and Tammy's hair-erasing challenge, please visit their JustGiving page!
Walkers
Boyd Douglas Davies, the inspiration for Garden Re-Leaf Day is going to walk (covid safely on his cross-trainer) from Brigg GC to Harrogate GC, just a mere 115km (72miles) in 24 hours starting tomorrow morning. "I have just put a Justgiving page together….

"I felt that as this is the 10th Greenfingers Garden Re-Leaf Day I really need to do something special as so many others have completed amazing challenges over the years."
The team from leading trade exhibition, Glee, are – Covid allowing – hoping to tackle a 51 mile stretch of the infamous Thames Path, all within a day's walking. Leading the pack will be Glee's Event Director, Matthew Mein, who has completed every Garden Re-Leaf Walk, racking up 120 miles for the charity to date, one of only two people who have done so!
What started as a casual chat amongst friends has turned into a challenge of epic proportions! The Lands' End to John O'Groats crew – made up of Hornby Whitefoot PR, Deco-Pak, Primeur, Garden Trade News, Gardenforum and GIMA representatives – have been walking, running and cycling everyday of March.
Having clocked up their original target (603 miles) within the first 12 days they decided why not go a little bit further and tackle the return journey as well, totalling over 1,200 miles.
Multi-discipline landscapers, Scotscape – the latest charity partner of the Greenfingers charity – will also be taking on the challenge. A team of 10 from Scotscape will be tackling 87.4 miles each during Feb 26th – March 19th. The team have set themselves a FUNdraising target of £2,000, with donations welcome via https://www.justgiving.com/fundraising/groundscapewalkingchallenge.
Hozelock will also be undertaking the One Million Step Challenge throughout March. Why? Because they want to help Greenfingers raise awareness for the great work they are doing for life-limited children as well as highlighting the physical and mental benefits of spending time outdoors. To show your support of the Hozelock team please visit https://www.justgiving.com/fundraising/hozelock.
Holly Parker, Learning and Development Assistant at HTA, has pledged to walk 50 miles every week to support Garden Re-Leaf Day. Go Holly!
Quizzers
Greenfingers patron, Anne-Marie Powell, will be joining the team at Evergreen Garden Care to host a special gardening quiz.
Designed to test your 'green' knowledge, this quiz is open to everyone, with tickets available from Greenfingers Director of Fundraising & Communications, Linda Petrons via linda@greenfingerscharity.org.uk.
Abstainer
Kate Ebbens of Capi UK has pledged to run 10 km on March 19th, with the company throwing their weight behind the challenge with donation of £500.
As if that wasn't enough, Kate has also given up her biggest vice – coffee – for the whole of 2021. To help avoid temptation Kate is donating £1 to Greenfingers for each day she goes coffee-free! You can make a donation to support Kate's efforts here http://www.justgiving.com/Kate-Ebbens2
Donations
The lovely people at Klondyke will once again be donating £1 from every pot sold on Garden Re-Leaf Day.
The Garden Design Company will see staff donate their salary on Garden Re-Leaf Day whilst Greenfingers Trustee, Rob Jones will also be offering free design consultations (in return for a donation to support the work of Greenfingers) to coincide with Garden Re-Leaf, with 10 consultations already booked!
Supporters of Garden Re-Leaf Day for many years, the QVC family including Richard Jackson and Michael Perry, will continue to use their significant platform to raise funds for the Greenfingers charity. Garden product sales on March 27th will help to increase the 2021 FUNdraising total.
Mowing
The teams at Stihl and Sims Garden Machinery will be undertaking a 10-week mowing challenge which will kick off on Garden Re-Leaf Day.
Skipping into March
At Perrywood Garden Centre, Hannah Powell and the team will be skipping their way through March. Each day Hannah will be adding one extra minute to her skipping, ending the month on 31 continuous minutes of skipping! You can support Hannah and the Perrywood team here: https://www.justgiving.com/fundraising/perrywood-garden-centre
Planting
Friends at Kew Green Hotels' Holiday Inn Washington will be joining volunteers from St Oswald's Children's Hospice in Newcastle where Greenfingers' Garden Project Manager, Holly Harrington, has designed a stunning new garden space. Set to be completed later this month, the Kew Green team will be helping to plant out a range of plants and flowers to help add colour, fragrance and texture to the garden.
Get involved in Garden Re-Leaf Day 2021
Since its inception in 2012, Garden Re-Leaf Day has been a key event within the garden retail calendar. Each year hundreds of people from across the industry, including suppliers and retailers, come together to undertake an incredible series of fundraising events. During the last nine years the event has raised in excess of £660,000, all of which has gone towards helping the charity design and create magical gardens in children's hospices throughout the country.
To find out more please contact Linda Petrons by emailing linda@greefingerscharity.org.uk