Chris and Kyle start Management Trainee Scheme
Company: Wyevale Nurseries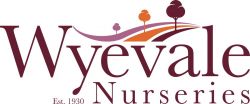 Chris King and Kyle Ross have this month (July, 2016) started their two-year Management Trainee Scheme at one of the UK's leading nurseries based in Hereford.
Twenty-three-year-old Chris and 22-year-old Kyle, who both live in Hereford, will be working at Wyevale Nurseries on its in-house programme, which covers all areas of the business.
Adam Dunnett, Sales and Marketing Director at Wyevale Nurseries, said: "We were looking for Management Trainees with a positive 'can-do' attitude and who enjoyed being challenged to come up with solutions. Chris and Kyle had all of these attributes and we're delighted to welcome them to the programme.
"During the two years Chris and Kyle will work in the container, trees and transplants production divisions, supply chain operations, which includes both garden centre and amenity despatch, goods handling and transport and will also spend time in the Wyevale Nurseries' head office departments."
Kyle, who is originally from Worcester and also a Wyevale Nurseries' Peter Williamson Travel Award winner, gained a BSc in Horticulture from Pershore College this year. His graduation will take place in November.
Kyle added: "I'm very excited to be working at Wyevale Nurseries and hope to expand my knowledge of production horticulture."
Chris graduated from Writtle College with a BSc in Horticulture in September 2015. Prior to his role with Wyevale Nurseries he worked at Aylett Nurseries in St Albans.
Chris, who is originally from Hemel Hempstead, said: "Joining the management trainee programme is a really exciting opportunity to develop my career in horticulture and I'm very much looking forward to working with the team."
Assessment will be through regular reviews and assessing performance against agreed objectives. Each trainee will have a mentor to meet with on a regular basis. There will also be a Programme Co-ordinator to support the trainee and to ensure that regular constructive reviews are undertaken.
Adam added: "Upon successful completion of the programme, it is anticipated that we shall be able to match Chris and Kyle to a suitable role with the company which would benefit from their particular strengths."
The company's previous trainees and apprentices who have successfully completed their programmes, have all, to date, been offered permanent employment within Wyevale Nurseries.
For further details about Wyevale Nurseries, which is based in Hereford, please call 01432 845 200, visit www.wyevalenurseries.co.uk, follow the company on Twitter at www.twitter.com/WyevaleNurs or log on to www.facebook.com/WyevaleNurs.