CDG announces new promotions and appointments
Company: Catering Design Group (CDG)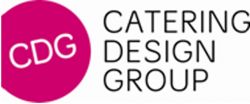 On the back of several high profile contract wins, Catering Design Group (CDG), the award-winning restaurant and commercial kitchen design company for the hospitality industry, has announced the promotion of Mike Sinclair - its award winning Principal Design Consultant, to the position of Design Director. The business has also appointed Kevin Broadley as Contracts Manager, whilst promoting Gemma Strong to the position of Design Consultant.
Mike Sinclair has worked exclusively within the catering and hospitality industry for the past 30 years and with Catering Design Group for 23. As an industry pioneer, Mike has been the driving force on many high profile projects including Bentley Motors, Royal College of General Practitioners, as well as the 'Bonfire' restaurant at the Barbican centre, which is nominated for the 2016 Restaurant & Bar Design Awards.
As Contracts Manager, Kevin Broadley's remit will span the management of the installation process of company projects, from receipt of order to handover. Broadley brings a wealth of retail expertise to the role, having worked in the shopfitting and interiors sectors for over 30 years. He joins CDG from DG Professional Interiors, where he was responsible for driving new business. In his time with the business, Broadley successfully completed fit-out projects across numerous clients, including Toms Kitchen and Potbelly – an American fast-food eatery in Westfield Stratford, London.
Gemma Strong started her career as a Junior Interior Designer with the Archi-tekt Partnership before joining CDG in 2012 to work across a wide portfolio of clients within the catering and hospitality sectors. In 2015, she was promoted to the position of Project Designer before progressing to her current role as Design Consultant.
In addition to internal promotions, CDG has recently welcomed back Tansin Blankley, who completed a one year placement with the business in 2015, and has now returned with a first class honours degree in Interior Architecture & Design from Nottingham Trent University. The company is also welcoming Alisha Mistry to the company from the same university and course on a one year placement.
Philip Howard, Managing Director, Catering Design Group commented: "Mike has so much respect within both the industry and with his colleagues. Over the last 23 years, he has been intrinsic to our continued success and this promotion is testament to his passion and knowledge. It has been an absolute pleasure watching Gemma evolve into a truly creative and inspiring designer over the last four years.
"As a business, we are committed to supporting emerging young designers, not only through Nottingham Trent University, but also at a more local level. We're thrilled to be welcoming back Tansin into the fold and look forward to nurturing Alisha throughout her year placement.
He concludes: "I'd like to take this opportunity to welcome Kevin to the business. His extensive 30-year retail expertise will hugely complement our diverse range of in-house skills."
For further information visit www.cateringdesign.co.uk or call: 01327 314 860