Carla is named Apprentice of the Year
Company: Wyevale Nurseries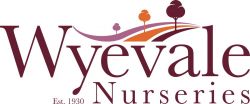 Carla Nash who works at one of the UK's leading commercial nurseries has recently been announced as the Midland Regional Growers' Apprentice of the Year.
Carla, who is 25-years-old and works at Wyevale Nurseries in Hereford, was presented with the award at Hampton Court on Thursday, July 7 by TV gardener and broadcaster, David Domoney.
Steve Reed, Container Division Director at Wyevale Nurseries, said: "During the past two years, Carla has proved to be an outstanding apprentice, all her college work has been completed on time and the feedback from assessors and nursery managers has been excellent.
"Carla is keen, enthusiastic and always takes time to look after the other, newer apprentices. She is always smiling and very positive. Well done Carla."
The apprenticeship scheme, which Carla was part of, was a specifically designed National Apprenticeship Programme for the Midland Regional Growers in conjunction with Pershore College.
Carla has just completed her apprenticeship and has been offered the permanent position of Team Leader on the Moving Crew at Wyevale Nurseries.
Geoff Caesar, Managing Director of the Bransford Webbs Plant Company in Worcester, which is part of the Midland Regional Growers' group, said: "The award is judged by the assessors and lecturing staff at Pershore College.
"Carla produced the most impressive college work and made excellent progress in her work based assessments. She is a popular member of staff at Wyevale Nurseries, who is supportive of less experienced apprentices."
Carla was presented with a glass trophy and £100 of high street vouchers to spend.
Carla, who lives in Withington, said: "I was very shocked but happy to receive the award. It is lovely to have appreciation and recognition for two years of hard work. I'm now really excited to get stuck into my new role at Wyevale Nurseries."
For further details about Wyevale Nurseries, which is based in Hereford, please call 01432 845 200, visit www.wyevalenurseries.co.uk, follow the company on Twitter at www.twitter.com/WyevaleNurs or log on to www.facebook.com/WyevaleNurs.