Alan is appointed Amenity Sales Executive at Wyevale Nurseries
Company: Wyevale Nurseries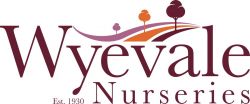 Alan Young from Cheltenham in Gloucestershire has recently (May, 2019) joined one of the UK's leading commercial nurseries as an Amenity Sales Executive.
In his role at Wyevale Nurseries, which is based in Hereford, Alan will work on tenders and quotes for existing customers, as well as developing new business.
Forty-eight-year-old Alan said: "I am very excited about my appointment as Amenity Sales Executive with Wyevale Nurseries. I'm really looking forward to being a part of a horticulturally focused and driven sales team.
"My whole career has been in horticulture and I intend to bring my previous experience and knowledge to the position, having worked in sales previously for some well-known wholesale nurseries in the South East.
"A re-location to Herefordshire means I am looking forward to meeting many new customers. However, with a strong portfolio of customers based in the South East and Wyevale Nurseries' strong logistics network means I can still continue to supply quality plants to my customers old and new across the UK.
"Excellent customer service, supplying quality plants backed with a thorough knowledge of the industry are all attributes which mean customers will stay with you. In today's professional, horticultural world it's ever more important to have a strong network of customers and reliable suppliers, meaning you'll continue to see me at industry events or out and about developing new and existing customers."
Wyevale Nurseries offers a full plant range and choice to the amenity and landscape sector from native transplants, container grown shrubs and perennials right through to field grown trees.
Alan added: "Being able to offer the full range of British grown stock for supply to new and exciting landscape schemes really is a drive for me.
"With superb heritage, Wyevale Nurseries celebrates 90 years' in 2020, yet clearly defined direction as it heads into the new decade, I'm really excited to be part of the team as it moves forward."
Prior to his role at Wyevale Nurseries, Alan worked as a Sales Development Manager at Agrumi Ltd in The New Forest.
He has also worked for various nurseries including Clifton Nurseries in Surrey, Coblands Nurseries in Kent, Tendercare Mature Plants in Buckinghamshire and Clarke & Spears International Ltd in Surrey.
Alan studied at the Welsh College of Horticulture in Mold, North Wales in the early 1990s and specialised in interior landscaping.
In his spare time, Alan enjoys walking and visiting gardens in Gloucestershire and the surrounding areas. He is also a vinyl record collector and enjoys vintage funk and soul music.
Andy Johnson, Managing Director of Wyevale Nurseries, said: "We're pleased to have welcomed Alan to our sales team. He has a wealth of knowledge within the industry and this will only benefit our already hardworking and experienced Amenity team."
For further details about Wyevale Nurseries, which is based in Hereford, please call 01432 845 200, visit www.wyevalenurseries.co.uk, follow the company on Twitter at www.twitter.com/WyevaleNurs or log on to www.facebook.com/WyevaleNurs.