Green-tech takes Supplier and Service Provider category title at ProLandscaper Business Awards
Company: Green-tech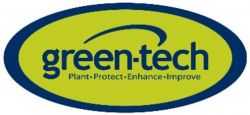 Leading landscaping supplier Green-tech has been named as the Supplier and Service Provider in the 2021 Pro Landscaper Business Awards.
Green-tech's Sales Director, Richard Gill comments; "This is brilliant news. I am so pleased to have won the Supplier and Service Provider. It means everything to me and the whole Green-tech team. Every single person plays their part and contributes to Green-tech's success, and I am proud of each individual team member. We work hard to provide market leading products and excellent customer service levels to our customers; we have brilliant relationships with our suppliers and an amazing team. This winning combination is why we've won this category and I could not be happier."
To win this category Green-tech had to demonstrate to the judging panel that they had strong customer relationships and staff retention. The judges were looking for the company that offers the best value for money and has earned themselves an impeccable reputation within the industry.
The Pro Landscaper Business Awards are the only industry awards which focus on how well companies run their business. Profitability, sustainability, corporate social responsibility, commitment to the landscaping sector, and client/supplier relationships are all areas reviewed as part of identifying the shortlist and overall winners. In total fifteen awards were presented at the fourth annual ceremony which on Friday 30th July.
Green-tech successfully showcased their approach to staff training and development, successful client retention strategies, financial stability, relationships forged with contractors, their commitment to the industry, product development and product training, their use of innovative technology and their development plans and future goals.
Green-tech's Marketing Director, Kate Humes, concludes, "Our reputation within the industry is strong and something we are very proud of. We aim to be best supplier and provide outstanding levels of customer service to our customers. To be independently recognised by the prestigious business awards as the winner of the Supplier and Service Provider means our hard work and commitment to the industry is recognised which is fantastic."