APL Awards 2021 – Join us online!
Company: APL (Association of Professional Landscapers)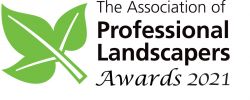 The annual APL Awards ceremony takes place on Friday 12 March and now is the time to register to to attend.

The virtual event will be hosted by James Alexander-Sinclair, renowned garden designer, using a specially commissioned virtual platform. Although in a different format, the awards will recognise and reward the high standard of landscape contracting carried out by APL members with just as much pride and celebration as is traditional at the in-person event everyone is used to.
This year the achievements of the shortlisted 45 companies, will be celebrated and attendees will be able to enjoy the festivities of the APL Awards and network with peers and key players across the industry on the online platform.
Speaking of his pleasure at being part of such a prestigious event, James Alexander Sinclair, who has designed gardens from Cornwall to the Western Isles and from London to Moscow, said:
"It's such an honour to be hosting this event and although we will this year be deprived of each other's company, it's great to be part of something which truly celebrates the best and most creative parts of our industry.
"These awards celebrate the commitment of APL members to top quality craftsmanship, sublime landscaping and excellent customer relations. It will be a great day, see you there and good luck to all who have entered their work."
The chance to network will begin at 4.30pm with the ceremony starting at 6pm. Registration for the event is available here www.aplawards.co.uk/register-your-interest