elho celebrates becoming the first European company to be certified by TÜV
Company: elho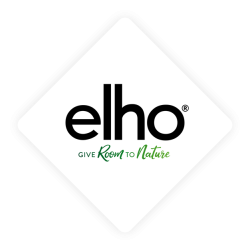 Sustainable plant pot manufacturer, elho, has become the first in Europe to be certified by TÜV , a technical inspection association that ensures products are safe and comply with regional, national and international regulations.
Following a successful audit by TÜV Nord, the elho group has officially been certified in Category A of the accreditation, showcasing that its products are made from at least 97% recycled materials, a first for the company and for the garden and flowerpot market.
The TüV certification is all about promoting reliability between organizations and for consumers. The main goal of TÜV is to demonstrate that a provider meets the requirements for reliability, and they establish this factually with a TÜV audit, test or inspection, in which traceability of the origin of the material is central.
The synthetic pottery maker, which was also awarded Certified B Corporation status last year, see this certification as a very important step. elho has been at the forefront of sustainability for many years and attaches great importance to designing and producing products with great care and consideration for nature.
elho is passionate about encouraging everyone to introduce nature into their lives and with their wide range of eco-friendly indoor and outdoor pots, it is simple to transform homes and gardens with stylish pots. Every pot is designed to last too, thanks to their UV protection and frost resistant properties.
More than 95% of its raw materials come from recycled plastic and it is on track to increase this to 100% by 2023. It also helps to convert over 15 million kilograms of waste into plant pots, each year, lending to its sustainability credentials.
Its sustainability efforts go far beyond this, with every product being made using renewable energy that is powered by the windmill located at the elho factory, in Tilburg in the Netherlands. Its second distribution centre, that opened earlier this year, is also one of the most circular in Europe.
"It is vital that we all recognize the importance of sustainability, and we feel that we have done that here at elho. Every day we are working hard to make the world a better place," elho's CCO, Melanie Meskers commented.
"This certification by TÜV is exceptionally valuable to us as a company. It is a confirmation, not only to us, but to our customers that we are committed to finding ways to help introduce nature into their lives and create a greener place for us all to live."
To find out more about elho, its products and its commitment to sustainability, please visit www.elho.com.